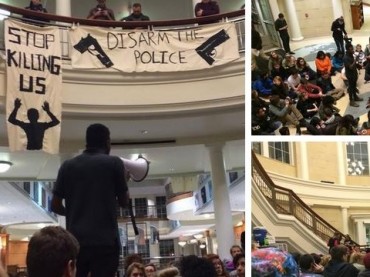 #FergusonSyllabus.
It's the way many educators across the nation communicated Monday night in the wake of the Ferguson grand jury decision not to indict police officer Darren Wilson for the shooting death of Michael Brown.
Educators talked about bringing up racism in America in their classrooms, and bemoaned how to explain to students this "injustice."
They Tweeted out progressive curricula. They spoke of anger and pain. They prepped for their lesson plans.
Here's a taste of what students in kindergarten through college may get Tuesday as the nation awakens to a post-Ferguson world:
MT @ZinnEdProject: Here are resources to help students think critically about Ferguson http://t.co/G6j1NZ7lGC #FergusonSyllabus

— Khalilah Harris (@Ed2BeFree) November 25, 2014
We keep on teaching because #Ferguson keeps on struggling and Michael Brown's family keeps #grieving. #FergusonSyllabus

— Dr. Marcia Chatelain (@DrMChatelain) November 25, 2014
Whether Darren Wilson Is Indicted Or Not, the Entire System Is Guilty @prisonculture In These Times http://t.co/nTiD6enRgu #FergusonSyllabus

— Amanda Alexander (@A_S_Alexander) November 24, 2014
Ready to teach Case for Reparations by @tanehisicoates beside Jacob's Slavegirl narrative in glare of Ferguson. #FergusonSyllabus oh yeah.

— nico jenkins (@no_bridge_leap) November 24, 2014
MT @JCroninConnolly: Ss are cheated when Ts ignore racism. For tomorrow: http://t.co/T9vn1qRZHE #FergusonSyllabus #educolor

— ShaniB (@OneAwkwardMom) November 25, 2014
Student e-mail.11:50 p.m.: Professor Chatelain, I just wanted to show this photo in class tomorrow. #FergusonSyllabuspic.twitter.com/rzotLj7cMY

— Dr. Marcia Chatelain (@DrMChatelain) November 25, 2014
Jennifer Kabbany is editor of The College Fix.
Like The College Fix on Facebook / Follow us on Twitter
IMAGES: Social media screenshots/embeds