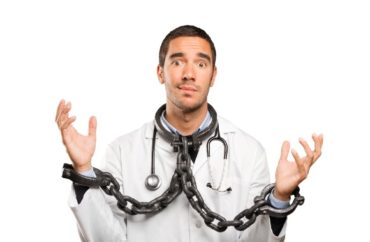 'These kinds of violations will continue to happen to other students,' legal expert warns
A medical student at Eastern Virginia Medical School is suing his school, alleging that his First Amendment rights were violated, even though the administration has already caved to his demands.
Edward Si says that the school violated his First Amendment rights by denying his application to start a chapter of Students for a National Health Program, with the clever abbreviation SNaHP. (As in, "Oh SNaHP!") The organization advocates for "a universal, comprehensive single-payer national health program," according to its website.
Si applied to start the chapter in 2020. After being denied, filed the lawsuit via the Foundation for Individual Rights in Education. The suit was filed in the United States District Court for the Eastern District of Virginia.
What led to the lawsuit
The controversy began in December when Si applied to start a chapter of SNaHP. According to FIRE's complaint, the application was denied by the student government with the explanation that it "does not want to create clubs based on opinions, political or otherwise, and the mission and goals of your club do not describe what we believe to be necessary or sustainable for a club."
The court filing, however, goes on to state that the student government "has recognized other clubs that express opinions and promote causes, including a Christian fellowship group, a pro-choice group, and a group that promotes consciousness of social inequality in medicine."
FIRE responded to the school's denial of Si's application by sending two letters to Eastern Virginia Medical School which demanded that the school recognize the SNaHP club.
Stacy Purcell, Eastern Virginia Medical School Vice President and General Counsel, responded to the first letter on February 17 by stating "that the proposed club was not denied in any way based on viewpoint or to infringe on free speech or freedom of association, but instead based on the standards set forth in the Criteria for Approval of a New Student Organization."
She added that the student government "found that there was an incompleteness of ideas, goals, and sustainability measures, matters that are considered for every application. The proposed student group also failed to submit a constitution in accordance with the standards. However, the group was invited to reapply and may do so at any time."
Eastern Virginia Medical School did not respond to requests for comment from The College Fix.
Recognized but still suing
One day after the lawsuit was filed, Eastern Virginia Medical School approved the Students for a National Health Program chapter. FIRE still plans to continue its litigation, however. Litigation Fellow Jeff Zeman explained why in an email to The College Fix.
"It is unconstitutional for public institutions of higher education to allow their student governments to violate the First Amendment. [Eastern Virginia Medical School] deprived Edward and SNaHP of their rights to free expression and free association for 258 days, and these kinds of violations will continue to happen to other students unless [Eastern Virginia Medical School] implements a viewpoint-neutral policy for recognizing student clubs," Zeman said.
While the lawsuit is still pending, Si is reportedly excited to begin his advocacy for single-payer healthcare through the club.
"With that in hand, my fellow students and I can move forward and more freely spread and discuss ideas amongst ourselves, our community, and our nation," he said in a news release.
MORE: Amid COVID and a healthcare slump, more people vie to become doctors
IMAGE: Algonga/Shutterstock.com
Like The College Fix on Facebook / Follow us on Twitter