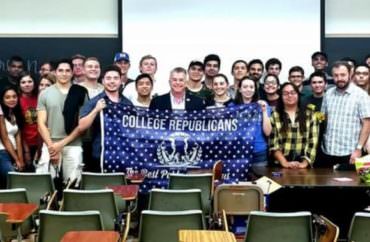 Rafael Dagnesses was born in Cuba in 1965, and fled the communist country as a young boy with his family after Fidel Castro executed many of his adopted grandfather's military comrades.
Dagnesses, who has some experience recognizing communism when he sees it, told a room full of College Republicans recently that when he looks at the Democrat Party, he sees socialism and communism.
"I don't want the Democrat Party to disappear," said Dagnesses, a Republican who has twice run unsuccessfully for Congress in recent years.
"Balance is good," he said, "but the Democrat party no longer exists. Rational, middle of the road Democrats have been hijacked by the leftist, socialist, communist movement."
Dagnesses made the comments as the keynote speaker at a Bruin Republicans meeting at UCLA on Wednesday.
"I don't quote books," Dagnesses, a Marine veteran and former police officer, told the students. "I quote reality."
The title of the talk was "The Failures of Socialism and Why America is Great."
Dagnesses's father had been part of the Castro movement, and his adopted grandfather, Huber Matos, was fourth in command of the Castro revolution. But once Castro decided to make the move to communism, he executed all of the platoon's men except for Matos.
"Che Guevara wanted him killed, but Castro was a smart guy and knew that the military might revolt if he killed him (Matos), so he decided to keep him alive," he said.
Dagnesses said escaping to America was the best opportunity his family had to thrive and become successful.
"Only in America can you work hard, and even have a third-world, third-grade dropout education, but if you work hard and you stay out of trouble, you will succeed," he said. "The sky's the limit."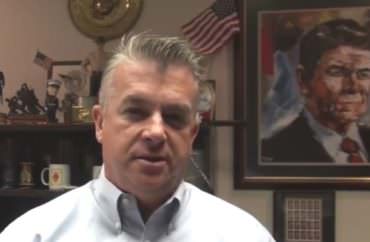 Dagnesses also weighed in on his view of the trajectory of the Democrat Party.
He said that the one good thing Bernie Sanders did during his presidential campaign was use the word "socialism." This brought the word into the public eye and allowed for Republicans to call the Democrat Party what they have always known the party to be: a group of socialists masquerading as the "liberal" party, he said.
He added that he believes Sanders and his wife are crooks, explaining that Sanders didn't have a real job until politics, and he has been taking taxpayer dollars for years. What's more, Sanders' wife is still under investigation for fraud charges, he said.
Dagnesses finished off the issue of socialism by showing the parallels between Democrat policies and socialist policies, and he recommended reading the book "Rules for Radicals" by Saul Alinsky to become more informed on why the Democrat Party became the preeminent socialist party in America.
Dagnesses also put his own party on blast, arguing that "Republicans are losing in California because they don't go into the inner cities."
One student asked Dagnesses: "Are you running for Congress in 2018 and, if so, how can I help?" Dagnesses replied: "If I can get enough money for my campaign, I'll run."
MORE: UCLA students step on U.S. flag in protest of Bruin Republicans event
Like The College Fix on Facebook / Follow us on Twitter