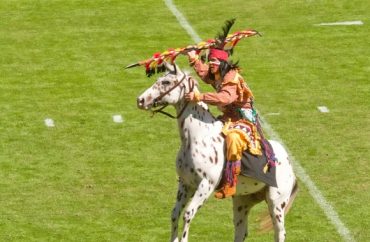 Florida State University's student government has a message for its fans: If you come to games, don't dress like our mascot!
Student leaders have approved a resolution asking fans not to wear Native American headdresses to sporting events. They even want the school to make it an official offense.
"The Student Government Association approved the nonbinding, formal opinion by a 27-4 vote on April 20 asking the university's administration to consider adding the wearing of headdresses as a violation of the student code of conduct," NBC Miami reports. "The SGA said it passed the resolution because many of the headdresses worn at athletic events are representative of other tribes, in particular Plains tribes like the Sioux, and not the Seminoles. Part of the resolution reads that the Senate 'does not condone the wearing of headdresses because it inaccurately depicts the culture of the Seminole Tribe.'"
Basically, in the eyes of these student leaders, overexcited fans are guilty of cultural appropriation and microaggressions.
Making matters worse, university spokeswoman Browning Brooks told NBC Miami that the resolution is a "very thoughtful and reasonable request."
Osceola, representing the historical Seminole leader, is the official mascot of FSU. This video shows he wears a headscarf and a feather, and it was taken five years ago, when students weren't so darn uptight.
Let's hope they don't also demand an end to the tradition of him riding in on his steed and planting a burning spear into the turf as well.
IMAGE: Ruth Peterkin / Shutterstock.com
Like The College Fix on Facebook / Follow us on Twitter