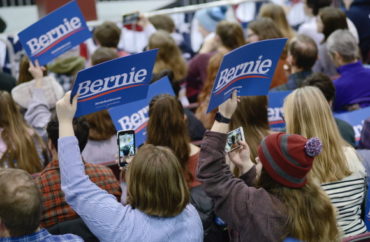 Meanwhile, Buttigieg gains no support among college students since last week
It looks like zillenials are throwing their weight more and more behind Sen. Bernie Sanders.
An online poll of 1,500 college students taken after his primary victory in New Hampshire last week found that support among Democratic college students for the "Democratic socialist" candidate has jumped to 50 percent.
"The Vermont Senator has support from half of all Democratic college students," reports the Chegg/College Pulse Student Election Tracker, a weekly survey of 1,500 full-time and part-time college students at two- and four-year colleges and universities across the nation.
The college election tracker monitors how support for candidates changes from week to week through its polls, and the latest results for Sanders shows a stark upward trend.
Except for a small period when Sen. Elizabeth Warren overtook him in October, Sanders has always enjoyed the most support from college students, according to the tracker. But it shows that last week the backing spiked.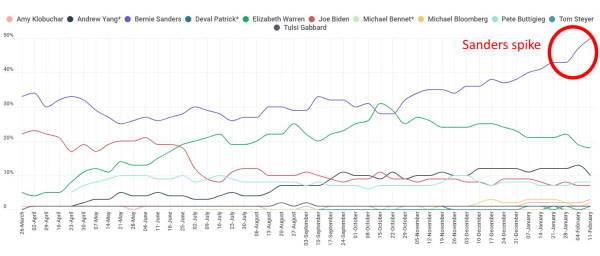 None of the other Democratic candidates come close to the level of support Sanders has from college students. In the second place position is Sen. Elizabeth Warren, with roughly 17 percent of Democratic college students behind her currently.
In third place is Pete Buttigieg — after Andrew Yang dropped out — but the election tracker points out that "despite his virtual tie with Sanders in NH and momentum nationally, Pete Buttigieg (8 percent) has gained no support among college students since last week."
"Yang, who has been a popular candidate among college students, dropped out of the race this week halfway through our fielding period. It is still an open question where his 10-13 percent support will move now that Yang is no longer in the race," the tracker notes.
The College Fix has chronicled the past support seen for Sanders among college students, including how "College Students for Bernie" chapters exploded nationwide during the primary leading up to the 2016 election.
In his victory speech after his New Hampshire win, Sanders told the crowd: "Our campaign is not just about beating Trump, it is about transforming this country."
MORE: Bernie Sanders proposes wiping out $1.5 trillion in student debt
IMAGE: Andrew Cline / Shutterstock
Like The College Fix on Facebook / Follow us on Twitter