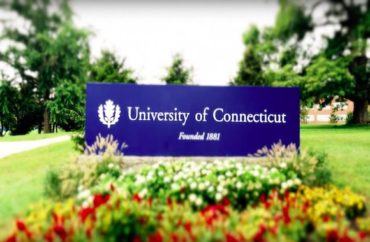 'Money damages cannot compensate him for these harms'
Give the University of Connecticut credit for its consistency: It does not believe students have constitutional rights, regardless of what they're accused of doing.
U.S. District Judge Michael Shea issued a temporary restraining order against the university Thursday, saying it deprived an accused student the opportunity to mount a "meaningful defense" against a rape accusation.
A week earlier the same judge stopped the taxpayer-funded university from punishing two students caught on video drunkenly yelling the n-word as they crossed a parking lot.
Shea found that "John Doe" had met the "heightened" pleading standard required to rejoin his 2020 class and enroll for spring classes.
While UConn "adjusted" his punishment from an expulsion to a two-year suspension for sexual assault, Shea emphasized that UConn as a whole and John's business school in particular have discretion to keep him out even after 2022.
They also won't recognize his credits from other schools, leaving him with a functional expulsion regardless. "He would have to explain that [two-year] gap—and his sanction for a sex offense—to any educational institutions or jobs he applies for in the future," the judge wrote, which would "forever change" the rest of his education and career.
The core of the problem for UConn in Shea's court was its refusal to let John challenge the credibility of his accuser. The two were the only ones present for the disputed sexual encounter in her dorm room, and the testimony of "Jane Roe" was directly contradicted by witnesses who saw them together earlier in the evening.
MORE: Shea stops UConn for punishing students for protected speech
Court focuses on due process deprivation in @UConn's puzzling decision to allow the single investigator to exclude testimony from exculpatory witnesses. pic.twitter.com/qhpYjnTjcH

— KC Johnson (@kcjohnson9) January 24, 2020
John alleged in his motion Jan. 20 that Jane chose to sit on his lap in a packed car as they and several friends left a party to go to a pizzeria.
She "began to lap dance, gyrating her hips and 'grinding' on John Doe's penis" so vigorously that the passenger in front of them felt her knees in the seat and understood she was making sexual motions. Another witness noticed the "sexual rhythm," in John's words, and tried to look away.
Jane denied "initiating any sexual contact" in spite of these contrary witness statements, aided by Student Conduct Officer Brian Goepfrich, who removed "all evidence of Jane Roe's active and willing participation in sexual activity."
That included the exclusion of a witness statement from the car ride – "in breach of UConn policy" – and refusal to interview another car witness, John claimed. "The Hearing Board followed up by forbidding" those two from giving testimony "as live witnesses."
Goepfrich actively suppressed contradictory statements by Jane, including how she could have "froze" during the rape while admitting she was an active and "cooperative" participant as they changed positions. She also gave contradictory statements to her roommate and then to investigators about inviting John to her room, the motion says.
Jane not only asked him for a condom, which he produced, but then "voluntarily removed her own underwear." After John explained this to Goepfrich, the officer recorded the encounter in his notes as "ambiguous":
This speaks volumes about Goepfrich's bias. He apparently comprehends it as ambiguous that a woman would directly ask a man to get a condom and then remove her own underwear while the man puts the condom on. To Goepfrich, even the clearest indication of consent does not indicate consent so long as a female student expresses regret after the fact.
MORE: U. Iowa officials personally liable for ignoring First Amendment
Not only did the hearing board ban four of John's five witnesses from testifying, but it didn't let him challenge Jane's witnesses at the hearing – whose written testimony the board cited – because they chose not to attend.
"UCONN's finding of non-consent necessarily hinged on the credibility" of John and Jane, Shea wrote in his order: "Despite the importance of credibility to the factual dispute, UCONN's disciplinary procedures hampered [John's] ability to present a meaningful defense on this issue."
Citing the ignored or refused testimony of John's witnesses that would cast doubt on Jane's credibility, the judge said UConn had no excuse for excluding them.
"In such a dispute, evidence bearing on credibility is critical, and thus the 'probable value' of
allowing these witnesses to testify, as an additional procedural safeguard, was substantial," while imposing no further burden on the university, he wrote.
Despite different courts disagreeing on the right to cross-examination in school disciplinary hearings, in this case John was denied even the right to respond to the accusations against him in a meaningful way," Shea said. "Under these circumstances, [John] has shown a clear likelihood of success on the merits of his due process claim."
UConn is severely playing down the consequences John faces, the judge explained:
If he is not permitted to enroll and attend classes while he litigates his claims against UCONN, he will not graduate on time and will have a gap on his résumé and transcript to explain to any future schools or employers, even if he ultimately prevails in this case. Money damages cannot compensate him for these harms, in part because they would be virtually impossible to determine. How does one know why one's job or school application is rejected?
Shea noted that UConn hasn't even argued that John's "presence on campus might inflict particular harm on Roe," and that John said he and Jane "sometimes crossed paths at their jobs for the same campus employer" for eight months after she accused him. The university didn't even think it was worth instituting a no-contact order when Jane "renewed her allegations" from April in September.
Shea will next rule on John's motion for a preliminary injunction after a hearing scheduled for Feb. 11.
Samantha Harris, vice president for procedural advocacy at the Foundation for Individual Rights in Education, publicly told UConn that "it may be time to listen" given the two adverse rulings from the same judge a week apart.
She called the order "a significant ruling for due process on campus," especially in the 2nd U.S. Court of Appeals, "where the case law is relatively underdeveloped compared to" the Midwestern 6th Circuit and New England's 1st Circuit.
Judge rebukes UConn for violating students' constitutional rights — for the second time in a week. My latest for @TheFIREorg: https://t.co/HMbqkiEFnm

— Samantha Harris (@samk_harris) January 24, 2020
MORE: UConn students demand speech codes, mandatory hate crime course
IMAGE: UConn/YouTube
Like The College Fix on Facebook / Follow us on Twitter