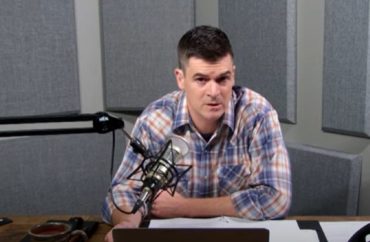 Said 'cancel culture' puts society on a 'dangerous trajectory'
A former college administrator turned radio personality and podcast host recently explained the problems with cancel culture. He argued that people need room to grow and laid out a better approach for trying to change legitimately bad behavior.
John Delony, who recently worked at Belmont University as its associate provost and dean of students, is now a personality within the network of personal finance guru Dave Ramsey.
Delony holds degrees in education, counseling and psychology, and covers family and mental health issues on his show.
On his September 14 show, Delony took an emailed question from a listener asking him for his thoughts on "cancel culture." Delony sharply criticized cancel culture and argued that dredging up someone's past is not a healthy way to make people better.
He called it "dangerous" to criticize and try to cancel someone for comments they made when they were immature or when society had a different way of looking at an issue or a different understanding of it.
"It's ridiculous, quite honestly," Delony said.
He argued that life is about growth and education and making one's life better, something that is in tension with cancel culture.
"I love the idea of education," Delony said, "I love mental health, I love being a part of counseling and coaching sessions."
The radio host used to lead counseling sessions for students when he worked at Texas Tech.
People need to have the "opportunities and the tools" to respond to criticism and feedback, Delony said.
Delony argued that telling someone how their actions or words hurt them is more effective and better for society than trying to cancel someone.
People, Delony argued, should have the opportunity to choose to make a better choice.
"It's a dangerous trajectory" when people are only about cancelling others, he said.
The former administrator explained:
It's not fundamentally helpful. It just shoves all the nonsense, nonsense, underground. It just makes it all, I don't know, it makes everybody go silent, it makes everybody go dark. And that is not how you heal things, you heal things in the light. You heal things with openness, you heal things with vulnerability, you heal things with forgiveness.
He pointed out that people are "stupid" when they are younger and that's why people get more freedoms as they get older.
"Brains aren't totally formed yet," yet society treats teenagers as if they were fully-grown adults, Delony said.
MORE: College Republicans and Democrats condemn cancel culture at Georgetown
IMAGE: John Delony / Youtube
Like The College Fix on Facebook / Follow us on Twitter