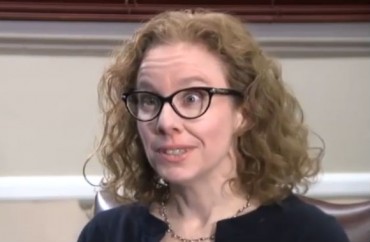 Student paper hides her threat toward student journalists
I look at student journalism of varying quality all day long. Gonzaga University's Gonzaga Bulletin may have published the most evasive and least useful story I've ever seen on a public figure in a student newspaper.
In a glowing profile of Communications Studies Prof. Melissa Click, whose contract was just renewed for another year by the Catholic university, the Bulletin does not once tell readers why Click was so controversial after the November 2015 racial protests at the University of Missouri.
She threatened and tried to remove a student journalist who was recording the protest on public land. The public largely knows what happened at that protest, which started a cascade of enrollment and financial troubles at Mizzou, because of that recording.
Gonzaga community members who weren't paying attention to Mizzou back then would have no clue why Click became such a divisive figure, based on the Bulletin report. Here's how it starts:
Two years ago the University of Missouri was immersed in racial turmoil. On one hand, marginalized students were calling for the resignation of their university president. On the other, the same students sought to defend the career of a professor who was involved in an altercation while standing in solidarity with them — assistant communications professor Dr. Melissa Click.

On Nov. 9, 2015, Mizzou President Tim Wolfe resigned as a result of the way in which he handled racial tensions on campus. Three months later, two dozen students twice interrupted an administrative meeting in support of Click while calling for more inclusive policies. [Protesters barge in on University of Missouri board meeting to demand prof's reinstatement]

"I stand with Melissa Click because she found potential in students more important than a paycheck," one student said, according to the St. Louis Post-Dispatch.

Despite the support, she was fired three weeks later.
MORE: Gonzaga hires Melissa Click after 'extensive national search'
An "altercation" in "solidarity" with protesters? This is intentionally hiding the most relevant information about Click's history and how it brought her to Gonzaga.
She didn't just chant "Black Lives Matter" or sit with the protesters. She threatened to use imminent force against a journalist – who later filed an assault complaint against Click (she got off with community service) – to prevent the exercise of First Amendment rights.
She directly inspired state legislation that would have forced students to take a "three-credit-hour course on freedom of speech." She likely helped switch the party running the governor's office.
The sympathetic and one-sided Bulletin story continues to hide the most relevant information about Click's past and simply emphasize how appreciated she is at Gonzaga:
And when her contract expired at the end of last school year, it was students who stood by her yet again. …

[Interim Academic Vice President Elisabeth Mermann-Jozwiak said:] "Her record was really exemplary, she excelled in the area the department was looking for. [She is an] excellent teacher, great colleague, good scholar. She was hired based on that record." …
MORE: Melissa Click says 'I was not as polite as I should have been'
[S]ophomore Jackie Lozaw was unaware of Click's departure from Mizzou. However, she did decide to look up her professor.

"I didn't get a really clear understanding by watching the videos, [but] it seemed like it got blown out of proportion," Lozaw said. "I could just be a biased student who really liked their professor."
What videos? The Bulletin has still not told readers anything more about Click than she was involved in an "altercation while standing in solidarity" with protesters.
There's more than just the "I need some muscle over here" threat to a journalist. Click had questionable interactions on video with police and press at multiple protests.
Her abilities as a professor have largely left a positive impact on those who have experienced her teaching.

"I loved her, I thought she did a great job with the class and a great job [ teaching us]," Lozaw said. …

"I think it goes with the Jesuit ideal of second chances and helping [Click] out when she was ostracized by her community," Lozaw said. …

"Dr. Click has very openly talked about her own learning experiences and while she really tries to focus now on the students, in a way she has modeled that kind of behavior as to 'Here is where I was, here's what happened, I made mistakes, I'm ready to move on, and now really focus on providing to our students the best possible learning experiences,' and she has excelled at that."
The Bulletin passed up several opportunities to tell readers exactly what Click did that got her fired at Mizzou (whatever you think of that decision), instead vaguely alluding to "the context surrounding Click's hire" at Gonzaga, "Click's departure from Mizzou," "Click's experience at Mizzou" and "Click's time at Mizzou."
It did not have to remove anything it said about Click's fans in the administration and student body.
All the Bulletin had to do was tell its readers the most important thing to know about how Click ended up at Gonzaga, and it repeatedly, bafflingly failed. This is "safe spaces" applied to journalism.
MORE: Melissa Click grabbed another journalist's camera at protest
IMAGE: ABC 17 screenshot
Like The College Fix on Facebook / Follow us on Twitter