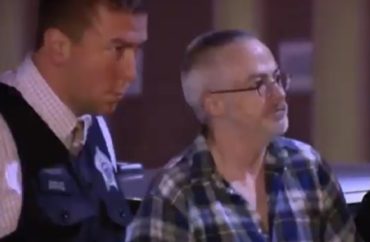 Previously tried to get out of prison by saying his expertise was needed to fight COVID
A Cook County, Illinois judge sentenced a former Northwestern University professor to 53 years in prison for the murder of one of his homosexual lovers during a gruesome 2017 killing.
Wyndham Lathem (pictured) stabbed his boyfriend Trenton Cornell-Duranleau to death in a killing the judge described as "cold-blooded" and an "execution" according to the Associated Press.
"Lathem testified during his trial that [former Oxford University employee Andrew Warren] alone stabbed Cornell-Duranleau during what started as a methamphetamine-fueled sexual encounter involving the three men," the AP reported.
"Warren in 2019 pleaded guilty to murder under a plea agreement that called for him to testify against Lathem in exchange for receiving a 45-year prison sentence," the AP reported.
Northwestern fired Lathem after the microbiology professor fled the state.
He attempted to get released from prison in 2020 to help fight COVID, saying his expertise on viruses could be used for the benefit of public health. He is considered an expert on the bubonic plague.
"With his background and experience, Dr. Lathem is well-suited to advise and participate in studies that are aimed at understanding SARS-CoV-2, the coronavirus responsible for the COVID-19 pandemic," University of North Carolina Microbiology and Immunology Chair William Goldman wrote in support of the motion to release Lathem. "It would make sense to take advantage of as many experts as possible during this worldwide crisis that is rapidly expanding in scope."
MORE: Suspect confesses to murdering teenage Grand Canyon student
IMAGE: CBS Chicago/YouTube
Like The College Fix on Facebook / Follow us on Twitter