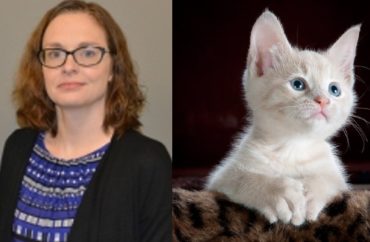 Reportedly had a mental breakdown in a Walmart
Professor Amy Williams, who until her arrest taught psychology and counseling at Youngstown State University, has been criminally charged for allegedly mutilating a cat to death. Mahoning County prosecutors filed the charges on December 29.
While her YSU profile has been removed, the American Counseling Association said Williams (pictured) worked as "an assistant professor in the Department of Counseling, Special Education, and School Psychology at Youngstown State University."
Her charges include a "Prohibitions concerning companion animals," which can include "knowingly caus[ing] serious physical harm to a companion animal." The charge can include subjecting an animal to "[t]orture, torment, needlessly mutilate or maim, cruelly beat, poison, needlessly kill, or commit an act of cruelty against the companion animal," according to the state code.
Her misdemeanor charge is also for violating a prohibition concerning companion animals, according to the Mahoning County court system.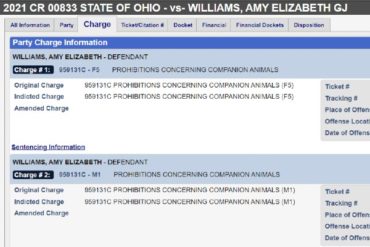 The Vindicator reviewed Williams' police report but did not link to it. A friend of Williams "found one of Williams' two cats deceased in the refrigerator, the report states. She could not find the other cat."
The Ohio paper reported:
[Amy Williams' friend] told Boardman police she called Williams on Nov. 22 after YSU staff contacted her around 7:30 p.m. because Williams did not show up to teach her class. The police report states the friend told police when she called Williams, she said she was "not OK and that she was going through some type of psychotic episode."

At Williams' apartment, the friend told police it appeared someone had thrown items all over the apartment, smashed pictures that had been on the walls and "left the apartment in total disarray."

Police found the former professor at Walmart, apparently having a mental breakdown.
"She was pushing a cart full of items near the front of the store," the Vindicator reported. "When police approached her, she yelled at officers, and was detained in handcuffs, the report states."
The Jambar, the student paper of YSU, previously asked Williams for advice on how to minimize stress, especially as it related to COVID restrictions.
"She said practicing self-care and seeking support are vital in preventing burnout," the paper reported. "Williams said self-care is described in four wellness pillars: biological, psychological, social and spiritual. In addition, she said students should seek support when needed in coping with stress and challenges professionally and personally."
MORE: LSU ag professor arrested for allegedly having sexual abuse of an animal
IMAGE: American Counseling Association; Pixabay/Pexels.com; Mahoning County
Like The College Fix on Facebook / Follow us on Twitter