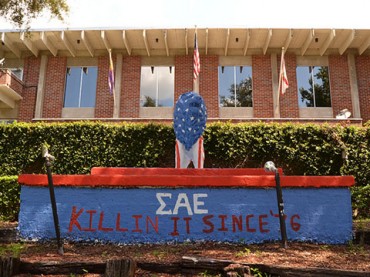 Following the leak of a video showing fraternity members at the University of Oklahoma singing a racist chant – and that chapter getting kicked out of Sigma Alpha Epsilon – its frat house has been vandalized and members report receiving death threats, The Oklahoma Daily reports.
Students at the school marched through campus today in protest of the video:
OU Unheard, a coalition of black students at OU, organized the 7:30 a.m. demonstration after a video implicating members of OU Sigma Alpha Epsilon fraternity spread on social media.

The 10-second video, which started circulating late Sunday evening, shows men on a charter bus signing a chant, saying "There will never be a n***** in SAE" and "You can hang them from a tree, but they'll never sign with me."
They wrote "thoughts and questions" on sticky notes and put them on the Student Affairs office door.
What's unclear is why marchers put duct tape on their mouths, considering that none of them claim to have been silenced or suppressed by the frat.
@princessheshe@_astoldbyerin & @bricherie Stand outside Evans call with @OU_Unheard. @OUNewsCrowdpic.twitter.com/gTALPW3JOt

— Kasey Phipps (@KasePhipps) March 9, 2015
President David Boren, who marched with the demonstrators, spoke at a press conference earlier today.
Last night he released a statement calling the frat members "disgraceful" for having "misused their free speech in such a reprehensible way." The school has now cut "all ties and affiliations" with the frat, he said, though that seems moot given that the chapter has already been kicked out by its national organization.
Prior to his statement, Boren released a cryptic tweet saying the school was "investigating" and that the frat members' speech would "not be tolerated," though the racist speech on its own doesn't appear to violate any school policies, as listed by the Foundation for Individual Rights in Education.
Read the Daily's coverage and check its home page for updates.
Like The College Fix on Facebook / Follow us on Twitter
IMAGE: Artie White/Flickr