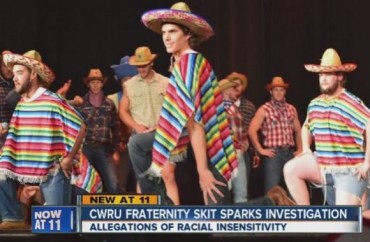 Latino students: Performance was 'triggering'
The Phi Delta Theta fraternity at Case Western Reserve University is under investigation by their national office and the campus office of student affairs, and Latino students on campus are demanding mandatory diversity training, after the frat brothers wore sombreros in a skit that also referenced Donald Trump's proposed border wall.
The skit was recently performed as part of the annual Greek Week festivities at the private, Ohio-based university. It depicted a fictional historical event where Marty McFly of "Back to the Future" fame goes back in time "to bring together Texas cowboys and Northern Mexicans battling for the border," Total Frat Move reports. "After 'this town aint big enough for the two of us,' Marty helps bring everyone together and they live happily ever after."
But some Latino students were outraged, complaining the skit's "insensitive costuming and dance routines, which include fraternity members dressing in Mexican sarapes and sombreros, played carelessly with stereotypes in an attempt to create a Mexican aesthetic," according to their open letter of complaint, signed by "Concerned Latinx Students."
"Moreover, the script provided no legitimate historical context, included sexist language and made reference to presidential candidate Donald Trump's proposed policy to create a border wall. Overall, this performance created an environment of hurt and confusion for many Latinos in our community," the letter continued.
"… At the end of the night, Phi Delta Theta members walked away without experiencing the stigma of being a Latino in this country and without understanding how triggering their performance was for many Latinos on this campus, albeit perhaps unintentional."
The protesting students demanded "100 percent fraternity participation in diversity education and training" to address the controversy.
RELATED: All-You-Can-Eat Taco Bars Deemed Offensive, Face Campus Extinction
Case Western's Phi Delta Theta chapter quickly put out a statement explaining how they had simply attempted to bring the campus community together and apologized for offending anyone, noting "the point of our skit was to promote cultural inclusion and identify that we all must come together. As a chapter whose members come from various cultural backgrounds, we in no way intended to cause this confusion or target specific groups."
The apology was not sufficient for its national chapter, which has swooped in to investigate.
"The Phi Delta Theta International Fraternity is investigating the chapter 'after becoming aware of racially insensitive costumes worn during the university's Variety Show,'" said a statement sent by Mike Wahba, director of chapter service, to Cleveland.com.
The office of student affairs is also investigating all aspects of the incident, an ABC News affiliate reports.
IMAGE: ABC News screenshot
RELATED: Trump chalking by College Republicans is a 'hate crime,' black students claim
Like The College Fix on Facebook / Follow us on Twitter