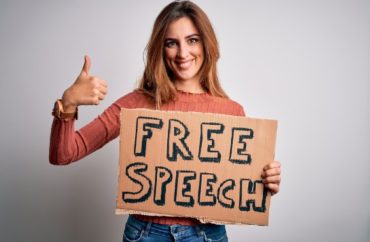 UPDATED
But some conservatives remain skeptical
A new forum dedicated to "free and open discourse" will launch this week at the University of Chicago.
Professor Tom Ginsburg will serve as the faculty director of the Chicago Forum, which begins its activities with programming on Oct. 5 and 6.
He told The College Fix via email he did not want to answer further questions until after the event.
"The Chicago Forum promotes the understanding, practice, and advancement of free and open discourse at the University of Chicago and beyond," according to its website.
A conservative professor who is involved with a separate free speech group on campus shared her concerns in an email to The Fix.
Professor Rachel Fulton Brown believes the forum will have a challenging time since "they do not address the causes for this culture head-on (i.e. actual differences of opinion on goodness, beauty, truth and their source)."
"My sense is that they are going for a 'middle-of-the-road' approach, more along the lines of the Heterodox Academy (one of whose board members is speaking at the event), so that they are talking about the premises of academic freedom rather than, at least in this opening event, testing its edges," she said.
"They do say that their mission is 'to promote the understanding, practice and advancement of free and open discourse throughout the University and beyond,'" she said.
Speakers include Jonathan Haidt, a New York University professor and chair of Heterodox Academy, as well as Alex Morey, with the Foundation for Individual Rights and Expression.
Other liberal speakers include former Barack Obama campaign manager David Axelrod and New York Times columnist David French. Former Republican Senator Richard Burr will also speak at the event.
The president of PEN America, Suzanne Nossel, will speak as well.
Her group is behind the false claim that there are widespread "book bans" across the country. PEN America also did not condemn targeted efforts to defund research by professors who receive money from oil and gas companies. It did defend a Wayne State University professor who wrote on Facebook that it would be better to kill conservative "transphobes" than to just "shout them down."
Professor Brown is a member of UChicago Free, an organization with 50+ professors, who desire "to preserve the unique intellectual environment of the University of Chicago. We value curiosity, open inquiry, free expression, and debate," according to its description.
"We believe that intellectual excellence is the ultimate goal of the University," the group states. "We advocate for academic freedom and political independence as expressed in the Chicago Principles and the Kalven report."
MORE: Poll finds young adults, 'nonbinary' more open to gov't censorship
Other members include Ginsburg, the Forum director, and Dorian Abbot, a geophysicist who has been critical of "diversity, equity and inclusion" efforts.
The Chicago Forum's promises might appear at odds with the university's actions toward a conservative campus group that wants official approval.
The Chicago Forum promises to "bring together students, faculty, higher education leaders and educators, and a diverse range of guests who navigate the challenges of free inquiry and expression."
Its description also says the initiative will provide "platforms for deeper and broader engagement with big, bold, risky questions in an environment that encourages curious listening, honest reflection, and the openness to expanding, modifying, or even disavowing one's own views."
At the same time, the campus Turning Point USA group has found itself having trouble bringing together students and providing platforms for engagement, after UChicago officials refused to officially recognize the group.
The group has yet to hear an update from the university, chapter vice president Tyler Shasteen told The Fix via text message.
Shasteen said he is "hopeful that this forum will strengthen the [university's] freedom of expression policies."
Campus officials blocked his group, saying it was too similar to the College Republicans, as previously reported by The Fix.
Editor's note: The article was updated to show Shasteen is the vice president, not president.
MORE: Villanova 'Inclusion Week' features 'Queer Spin Class'
IMAGE: Krakenimages.com/Shutterstock.com
Like The College Fix on Facebook / Follow us on Twitter