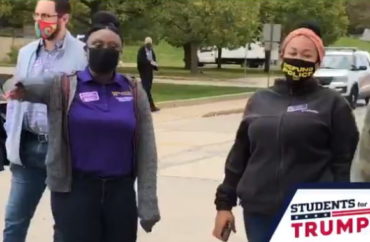 Speech First, an activism group devoted to defending free speech in higher education, has issued a letter to Western Illinois University, calling it out for "blatant viewpoint discrimination" following an altercation between students and staff on campus earlier this month.
The incident took place on October 2 when a group of students who are a part of the organization Students for Trump held a voter registration drive on campus.
The student group was shut down by employees of the university and others, however, telling Students for Trump they were not allowed to hold the drive on campus, according to various reports on the incident.
The campus employees and others had formed a human barricade, preventing other students from interacting with the registration drive, according to a detailed letter from Speech First documenting the incident and videos posted on social media.
Public university officials of Western Illinois University, and radical leftist students, blocking our chapter's tabling efforts.

Completely unhinged. pic.twitter.com/L6zCHKLHLU

— Students For Trump (@TrumpStudents) October 2, 2020
Western Illinois University employees held this position for over an hour until the Students for Trump group eventually left the premises, Speech First's letter states.
"Students for Trump had every right to register voters at the University Union, yet WIU employees impermissibly prevented them from partaking in expressive activity," reads part of Speech First's letter to university interim President Martin Abraham.
Prior to receiving the letter, President Martin issued a statement on the incident, discouraging employees from engaging in such activities on university time:
"As we advocate for candidates and political causes, I must remind our WIU employees, including our student employees, that per the State Officials and Employees Ethics Act, University employees may not intentionally perform any prohibited political activity during any compensated time other than vacation, personal, or compensatory time off, and they may not intentionally misappropriate any state property or resources (including University property or resources, which includes your University email, computer, telephone, etc.) by engaging in any prohibited political activity for the benefit of any campaign for elective office or any political organization or referendum question."
Although Speech First's letter regarding the incident describes it as being mostly employee driven, a spokesperson for Western Illinois University denies this, claiming other students had a larger role in the human barricade, in an emailed statement to The College Fix.
"While social media posts that circulated following the event stated that public university officials blocked the table and/or asked the group to leave, University administration did not request that the group leave, nor did University officials block the student group. There was a group of students who countered the Students for Trump group, including a few student-employees," stated Darcie Shinberger, executive director of university communications.
"Discussions are encouraged and differing points of view are part of our learning community, and as a public institution, Western supports and promotes freedom of speech. Groups/individuals (whether registered student organizations or not) may set up on campus grounds, following University policies," Shinberger continued.
"Discussions have taken place with our student-employees following this event, including with those who coordinate the Office of Student Engagement's social media presence, to further outline the University's freedom of speech and expression stance, as well as the policies related to assembly. Furthermore, Interim President Abraham has issued letters to the entire University community regarding the upcoming election, the right to assemble/express views, the importance of voting, etc."
In a statement to The College Fix, Nicole Neily, president of Speech First, criticized the incident.
"It's appalling that employees at a public university tried to block a voter registration event at Western Illinois University," she said. "This blatant viewpoint discrimination, committed by state employees, is flagrantly unconstitutional — and the administration's half-hearted response to this incident sends a clear message to the university community that certain types of speech are valued on the WIU campus more than others."
MORE: Mob storms 'Students for Trump' meeting, then it gets ugly …
IMAGE: Twitter screenshot
Like The College Fix on Facebook / Follow us on Twitter