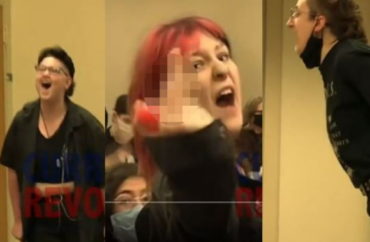 Videos from a guest talk at the University of North Texas last week that was shut down by an aggressive group of student protesters have spread widely on social media.
The Young Conservatives of Texas campus chapter hosted the event, "Criminalize Child Transitions," which featured Republican Jeff Younger, well known as the father who fought his ex-wife over their young child's gender transition in court and who is currently running for a seat in the state legislature.
The controversial nature of the topic drew an emotional and aggressive crowd to the campus — both students and community protesters alike — who essentially shut down the event.
Initially, only a few videos from Wednesday evening's chaotic scene circulated as news outlets reported on the event. However, more video snippets have since been published and disseminated, prompting shock and ridicule among many observers.
Some of these videos have come from the Young Conservatives of Texas campus chapter itself, including a 25-second clip the group posted Friday on Twitter that shows students hurling profanities at Younger, who refused to use people's preferred gender pronouns.
HE 👹 HE 👹 pic.twitter.com/pt0iMWdE4J

— YCT UNT (@YctUnt) March 4, 2022
The Twitter account Old Row, which promises its 225,000 followers "jokes, hot takes, photos and videos from a campus near you," shared a two-and-a-half minute video montage from the evening that shows a defiant Younger refusing to use preferred pronouns and even laughing at times, prompted the people in the crowd to go wild — shouting, screaming, banging on desks and giving him the finger.
The Exorcist (1973) pic.twitter.com/Q4WFya0Xht

— Old Row (@OldRowOfficial) March 4, 2022
The video montage was created by Current Revolt, and it has been viewed well over 680,000 times.
The popular conservative site Twitchy also got in on the action with its March 3 piece: "Libs of TikTok has the only clip you need of students shouting down an 'anti-trans' father and candidate."
The video shows one of the protesters in some sort of primal scream before yelling at Younger for denying gender identity. The same scene was shared by The Daily Wire on Twitter.
When you stub your toe on the stairs in the middle of the night: pic.twitter.com/T3GVmPHKVL

— Daily Wire (@realDailyWire) March 3, 2022
In another video, Younger tells the rowdy crowd: "Alright guys, I want to thank you for showing the world what leftist politics really is." Then someone dressed in all black with a black mask covering their face comes up to take his microphone, at which point he walks out as the crowd cheers and claps.
What an embarrassing group of babies they have attending the University of North Texas. If you're a parent to one of these students, just know you failed. pic.twitter.com/xwhSLsSSp0

— Joseph (@TheWWEReject) March 3, 2022
The university is investigating the incident, as event organizers and police engaged with aggressive demonstrators after the talk was shut down and people left the campus building.
In a public statement, UNT President Neal Smatresk said the scene "culminated with a group of protestors swarming police, who were working to safely escort both the guest speaker and student organizers off campus. DPS was called in to assist with maintaining safety."
"A group of protestors surrounded the police vehicles containing both the student organizers and their guest and attempted to block their exit from the scene by banging on the vehicles and impeding their movement. The officers engaged emergency lights and sounded warning sirens repeatedly while inching forward as other officers assisted in clearing a path for the vehicles to exit safely."
A co-host of the event, UNT student Kelly Neidert, past president of the YCT club, also tweeted footage of police escorting her out as protesters surrounded them, writing she was eventually "forced to hide in a janitor closet with the lights off."
A week after getting death threats & getting 17k signatures on a petition to expel me, I had an event where I had to be rushed out of the building for my safety. Antifa cut me off and I was forced to hide in a janitor closet with the lights off while antifa searched for me. pic.twitter.com/BymilPmW3N

— Kelly (@kelly_neidert) March 3, 2022
Both sides have now called on the university to take action.
The Young Conservatives of Texas campus chapter has demanded "the university take immediate action against those who violently rioted that evening." The group has threatened legal action in a news release.
Meanwhile, the North Texas Daily student newspaper sent a team of 30 reporters and photographers to cover a walkout protest Friday on campus supporting the rowdy demonstrators, accusing President Smatresk of "victim-blaming," and giving "hate speech an active platform."
MORE: Aggressive activists shut down campus event critical of child gender transitions
IMAGE: Current Revolt / Twitter screenshots
Like The College Fix on Facebook / Follow us on Twitter