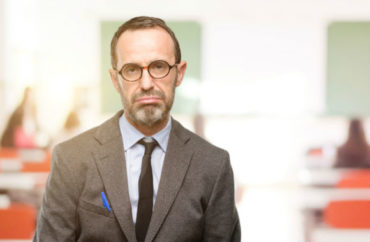 And threatens to unconstitutionally compel their speech
When working at the Springfield Nuclear Power Plant rendered Homer Simpson sterile, his boss invented an award and an Emmy-like ceremony to explain why he was receiving a $2,000 don't-sue-us check.
Its wonderfully evasive name? "The First Annual Montgomery Burns Award for Outstanding Achievement in the Field of Excellence."
I'm guessing George Mason University President Gregory Washington has seen that episode and got inspiration from it, because he just announced a similar award for nonwhite faculty.
The taxpayer-funded institution actually promised to violate the constitutional rights of white faculty, with the justification that only nonwhite faculty are performing work for which they are not paid.
Washington's announcement last week was couched in the language of antiracism, the latest doublethink academic fad to promote racism and stereotypes.
Just a few weeks into his tenure, the deeply conventional president copied what all of his peers were doing and created a "Task Force on Anti-Racism and Inclusive Excellence." It will exhaustively scrutinize everything about the university, from curriculum and "engagement" to policies and training, to learn where "systems, practices, and traditions of racial bias exist" and "eradicate" them with "systems and standards of anti-racism."
Unsurprisingly, this task force will represent "racial, ethnic, gender, sexual identity, and religious identity" but not intellectual diversity.
One element of this antiracism push is, well, more racism:
We will develop specific mechanisms in the promotion and tenure process that recognize the invisible and uncredited emotional labor that people of color expend to learn, teach, discover, and work on campus.
As explained by former Department of Education lawyer Hans Bader in Liberty Unyielding, this justification does not remotely cure Washington's plan of constitutional deficiencies.
The proposed changes to promotion and tenure are "racially discriminatory," he writes. "It is not just 'people of color' who 'expend' 'uncredited' labor" – white faculty also help minority students in similar ways – "yet the mechanisms [Washington] proposes only recognize such contributions from minorities, not whites."
In order for this anti-white discrimination to pass constitutional muster, GMU itself – "not discrimination against the minority group by others in society" – would have to have "engaged in recent, widespread discrimination against those minority groups," Bader says.
It's troubling that GMU's lawyers evidently aren't interested in sharing relevant caselaw with Washington and other leaders, who are risking taxpayer money if the public university gets sued. Bader shares his legal sources to prove that "individual instances" of racial discrimination cannot legally justify blanket preferences for that racial group, much less for other groups without a similar history of discrimination.
Also "legally irrelevant" is Washington's justification that GMU's student body is more racially diverse than its faculty, who "have special qualifications that students do not" and who were "mostly hired at a time when the qualified applicant pool was whiter than it is today, due to America's changing demographics."
MORE: Antiracism mandates, a 'huge source of potential illegal discrimination'
The president is also using code words for quotas, which are blatantly unconstitutional, when he speaks of a "metric-driven" antiracism plan to be implemented across every "college and school" in the university. Bader writes:
Even "goals" or other metrics can constitute illegal racial quotas in the eyes of the courts. For example, an appeals court ruled that auditing institutions that do not meet certain racial metrics constitutes an illegal racial quota, even when the audits don't necessarily lead to a finding of racism. (See Lutheran Church–Missouri Synod v. FCC (1998)).
The university might also be facing a First Amendment lawsuit because its mandatory "anti-racism statement on all syllabi" looks like compelled speech, the lawyer predicts:
Faculty can certainly be required to pledge not to discriminate on their syllabus, and to include on their syllabus a notice that they comply with the civil-rights laws. But that may or may not be what GMU has in mind with its "anti-racism" statement. …

Racial disparities exist everywhere in society and the world, often for reasons unrelated to racism, as black economists like Walter Williams, Glenn Loury, and Thomas Sowell have noted.

Forcing academics to endorse the view that racial disparities are due only to racism — not other factors — would require GMU faculty — such as economics professor Walter Williams — to repudiate their own publications, and say something they believe to be false.
The university could even implement an "ideological litmus test" via the antiracism plan when hiring faculty, according to Bader: Washington mentioned the presence of "Equity Advisors" in "approving search committee shortlists."
It's clear that this former government lawyer put far more thought into reviewing GMU's constitutionally dubious antiracism plan than the taxpayer-funded lawyers asleep on the job at GMU.
MORE: Brown professor criticizes administration's 'loyalty oath' to SJWs
IMAGE: Aaron Amat/Shutterstock
Like The College Fix on Facebook / Follow us on Twitter