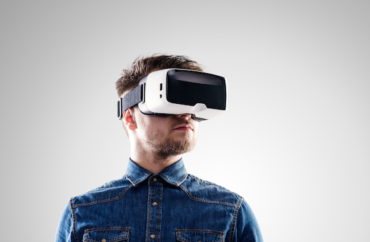 Free speech group says program could run into legal problems
A new virtual reality program at George Mason University will help faculty learn how to fight racism and their "implicit bias."
The university's College of Health and Human Services announced plans for "training [that] will educate faculty to recognize and react to implicit bias and microaggressions through a [virtual reality] simulation."
The program is being developed by the the university's Inclusive Excellence Working Group with the goal to teach faculty about how to "mitigate the harmful effects of racism and discrimination."
The group hopes to accomplish this "by discussing the nature of microaggressions, applying strategies to react to microaggressions from multiple perspectives, and demonstrating confidence and commitment to act."
The initiative could next be expanded to staff and students. Upon completing the training program, participants must fill out surveys measuring the program's impact on their ability to reduce and eliminate "racism, microaggressions, and discrimination."
The Foundation for Individual Rights and Expression said the university must be careful not to require a specific outcome or statement of belief as part of the training.
Campus Rights Advocacy Program Officer Haley Gluhanich told The College Fix that the program may veer into "unlawful thought reform" if "participants are forced to say they believe in certain views taught in the training, or change their course material to conform to it, that would likely be unconstitutional." She said the survey portion raises concerns about legality.
MORE: Academics receive $297 million in NIH funds to study racism and health
Gluhanich wrote that it is probably legal as long as the program does not force participants to affirm certain positions or mandate faculty to change their teaching curriculum.
The platform allows faculty "to experience microaggressions from different perspectives, including the receiver, witness/bystander, and the source, in a real-life context," Bethany Cieslowski, the college's simulation coordinator, stated in the news release. "VR offers the opportunity for deliberate, repeated practice required to gain the confidence and skills necessary to react to the negative effects of racist language and actions."
"Evidence demonstrates that active engagement provides a deeper understanding, increases learning retention, and builds confidence," she stated.
Cieslowski did not return a request for comment in the last week on the goal of the program and if participants must affirm certain beliefs about race. The College Fix asked similar questions to Professor Jeanne Booth, one of the scholars involved with the program, but did not receive a response.
The program at George Mason University will not be the first time VR has been used to combat racism and implicit bias.
In 2019, The Fix reported that the University of Southern California's business school was utilizing VR to help reduce participants' "unconscious bias."
MORE: University shuts down anti-racism training that separated students by race
IMAGE: Halfpoint/Shutterstock.com
Like The College Fix on Facebook / Follow us on Twitter