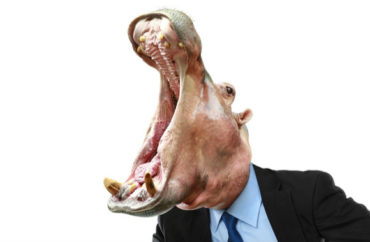 George Washington University officially has put the kibosh on "Hippos" as a replacement for its longtime nickname of "Colonials."
This past week GWU put out a set of "guiding principles" for the selection of its new "moniker." Any name must be related to at least one of the following: "Shaping the Future," "Free to be Bold" and "At the Center of Power."
The message specifically notes that "Hippos" will not be in the running:
"As a moniker, ["Hippos"] would not align with the guiding principles and received negative feedback during engagement events from various members of the community, including student-athletes who are closely identified with the moniker in competition."
But the student paper The Hatchet had thought differently. In an October editorial, the paper argued that "unlike Colonials […] Hippos can be a symbol for students to rally around on game days […] It's a mascot that can trot out at half time without making national news. And most of all, it's something that can bring every member of the GW community together."
"Hippos," the editorial continued, "is everything that Colonials wasn't – it's divorced from the ugly history of colonialism and racism that marked our use of Colonials."
A slight majority (54 percent) of GWU students voted to can the Colonials nickname in 2019 for its "glorifi[cation of] the act of systemic oppression." An anti-Colonial petition was started in part by a former Hatchet reporter after being told at a study-abroad orientation "not to wear anything with 'Colonial' on it outside of Europe."
The reporter had said "Colonialist, terrorist, murderer. In a lot of places that's what colonials mean to people. Why would we continue to call ourselves that?"
The GWU Board of Trustees had the final say in ditching "Colonial"; it set the 2023-24 school year as the deadline to choose a replacement. The university community has until the end of the month to submit new moniker suggestions.
MORE: GWU student senator revives effort to ditch 'Colonials' nickname
IMAGE: Odua Images / Shutterstock.com
Like The College Fix on Facebook / Follow us on Twitter