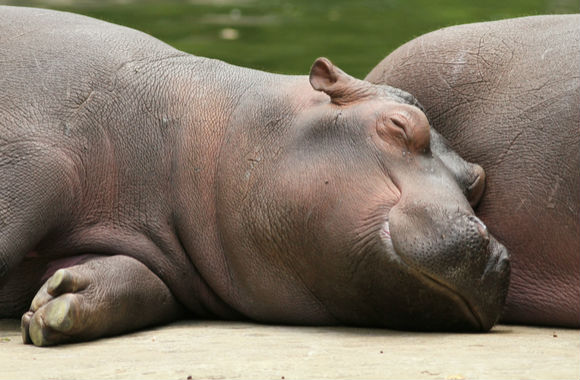 'It's divorced from the ugly history of colonialism and racism that marked our use of Colonials'
George Washington University is searching for a new nickname after announcing in June it is phasing out "Colonials," and its student newspaper has officially weighed in.
They want hippopotamuses.
"Hippopotamuses, or Hippos for short, is everything that Colonials wasn't – it's divorced from the ugly history of colonialism and racism that marked our use of Colonials," the GW Hatchet editorial argued.
"… The Colonials moniker carried GW through the last century, but it's grossly out of touch today. The personification of the Colonials moniker exemplifies why it can no longer, if it ever did, unite students. GW can't squeeze out school spirit from students who understand colonialism as a historical fact, not a mere costume."
The nickname Colonials came into use in 1926, and "George" has been GWU's mascot since 1948.
According to the university's website, "GW's association with hippopotamuses began when President Stephen Joel Trachtenberg bought a statue of a hippopotamus in 1996 and gave it as a gift to the class of 2000. It stands on campus by Lisner Auditorium at the corner of 21st and H streets. Students rub its head and put coins in its mouth for good luck. Almost immediately, it began to appear in advertisements and campus publications."
The GW Hatchet editorial pointed out hippos are also sold as merchandise in the campus store.
"Unlike Colonials or these other monikers, Hippos can be a symbol for students to rally around on game days or events that require no reckoning with history. It's a mascot that can trot out at half time without making national news. And most of all, it's something that can bring every member of the GW community together," the editorial stated.
Administrators had used a similar argument when it dumped the Colonials nickname.
"We have evolved over our 200 years as an institution and a community," GWU Provost Christopher Alan Bracey said in a statement in June 2022. "Today, the moniker no longer does the work that a moniker should—namely, unifying the campus behind our academic and athletic institutional aspirations."
In April 2019, a slim majority of George Washington University students voted to dump the Colonials nickname.
Additional ideas under consideration for the new nickname include "Revolutionaries" and "Riverhorses." But the Hatchet argued "Revolutionaries" is too similar to nearby rival George Mason University's "Patriots."
GWU has stated Colonials will continue to be used until a new moniker is introduced, likely during the 2023-24 academic year, "after a broad university community engagement process."
MORE: George Washington University dumps 'Colonials' nickname
IMAGE: Henk Bentlage / Shutterstock
Like The College Fix on Facebook / Follow us on Twitter