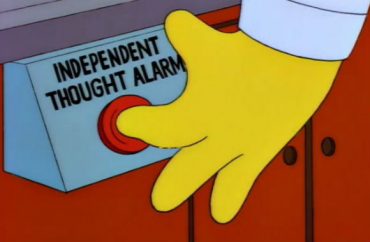 'Because they talk about stuff that's not appropriate'
Administrators at Georgia State University never came up with a plausible reason for blocking distribution of its student-produced summer magazine, The Urbanite, in the orientation bags given to incoming freshmen.
They claimed it would hurt the environment – three weeks after 10,000 copies had already printed, in keeping with the past five years of orientation arrangements between the administration and The Signal, which produces Urbanite.
More likely, and backed by email evidence: One administrator was offended by a feature on the "alternative jobs" of Georgia State students, including sugar baby, stripper, black-market iPhone flipper and marijuana dealer.
Now the administration has to contend with actual student orientation leaders contradicting its official line. If their allegations are true, Georgia State would be a ripe target for a First Amendment lawsuit.
One unnamed leader told The Signal that orientation leaders were told to avoid newspaper staff or mention the magazine on their tours.
"They are really strict on what we are allowed to say. They censor a lot of information," the leader said:
This student said the censorship went beyond The Urbanite, including not telling new students about the realities of being on campus at Georgia State [whose main campus is downtown Atlanta]. For example, Orientation leaders are allegedly prohibited from advising students on avoiding walking alone at night or discussing the city's homeless population.
Another unnamed leader said the Urbanite crackdown appeared to be driven by retention concerns: Too many students were dropping out before the first day of classes. Orientation also has new jurisdiction (the admissions department) and new leadership, the student leader said they were told.
MORE: Georgia State censors student magazine to save the environment?
.@gsusignal says Georgia State University doesn't want new students to read their magazine. It would be a shame if someone were to share it with student journalists and advocates across the country…
https://t.co/LJ6gBu7jfs

— Student Press Law Center (@SPLC) July 11, 2019
'Skirted the line of unlawful censorship,' at best
The Signal said another orientation leader, student Sadia Mohamed, blocked its staff from manually handing out the magazine at a June 17 orientation event, before the "initial investigation" into the halted orientation-bag distribution was finished:
Mohamed said the reasoning was, "Because they talk about stuff that's not appropriate at Georgia State … you are not allowed to go in here due to FERPA," and then directed the newspaper staff to her manager.

The Family Educational Rights and Privacy Act protects the release of student educational records, such as grades or disciplinary records. [FERPA is a common and groundless excuse by administrators for hiding embarrassing information from the public.]

"You can pass them out at your table, [but] as far as anybody from [New Student Orientation] or our staff, we are not passing those out," Adriann Stinson, NSO coordinator, told news staff regarding their intent to distribute the magazines.

However, Signal staff were not requesting NSO members distribute the magazine for them.
Benjamin Williams, assistant director of NSO, gave a different story to Editor-in-Chief Daniel Varitek: No one was allowed to walk around, handing out literature, for any reason. Signal staff could only hand out the magazine from its own table.
Spokesperson Andrea Jones did not give an explanation that was any more consistent. She told the newspaper that the halted distribution on June 17 was appropriate, but that orientation staff didn't try to stop distribution on the following days.
Three students who work at Orientation came forward with their opinions on The Urbanite's removal and insider information. One said censorship by administration is a problem.https://t.co/K4JhIXawRQ

— The Signal (@gsusignal) July 10, 2019
Georgia State is digging itself an even deeper hole with these incomplete and suspicious explanations. The Foundation for Individual Rights in Education thinks it could be liable for violating the student journalists' First Amendment rights:
While the administration is under no legal obligation to distribute the magazine, it didn't help its relationship with student journalists by offering a dubious justification for the decision — and student employees' refusal to let the student newspaper's staff distribute the newspaper themselves likely abridged the First Amendment.  …

This [table-only distribution] policy, if consistently enforced without respect to content or viewpoint, might be a reasonable restriction, but the university did no favors for itself by citing the content of the magazine in enforcing it. Had the university not quickly allowed The Signal's staff to distribute the magazine at all, while letting other organizations hand out documents, the university would certainly have violated the First Amendment.
At best, the administration "skirted the line of unlawful censorship" with content-based objections to the magazine's distribution, and gave orientation leaders the impression that they'd get in trouble if they let new students know anything other than administration propaganda, according to FIRE.
A lot of administrators seem to believe there are no consequences to censoring and chilling speech in the name of diversity and inclusion – purportedly making marginalized students feel safe.
I have a feeling it's different when students know administrators are trying to censor anything that makes the university look bad – its proximity to crime and homelessness and the "alternative jobs" of its students.
MORE: Missouri defends censorship, retaliation against student journalists (again)
IMAGE: Frinkiac.com
Like The College Fix on Facebook / Follow us on Twitter