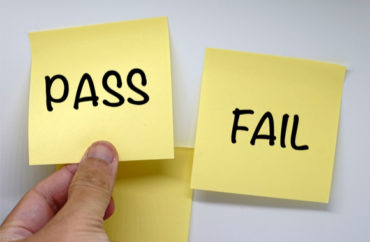 'We're going to do everything that we can in our power to have this conversation'
State representatives in Georgia vowed on Tuesday to pressure public university officials to implement a system-wide pass-fail grading system this semester after multiple students demanded the concession as a response to the coronavirus pandemic.
The University of Georgia campus newspaper The Red & Black reports that 15 students participated in a virtual Zoom meeting on Tuesday with members of Georgia's statehouse. Those students "relay[ed] their hardships to the state representatives" and asked that the reps support their demand that the University System of Georgia "implement a pass/fail system for the spring semester."
Pass-fail grading systems have been demanded by students nationwide in the wake of the coronavirus outbreak here, as virtually every school nationwide has switched to distance education and students have struggled to adjust to the hastily assembled ad-hoc system of instruction. Numerous schools have conceded and allowed students to receive pass-fail grades.
The University System of Georgia last month said it would not be implementing pass-fail this semester, urging students to "reach higher, not lower" during the pandemic. Many students, The Red reports, were displeased with that decision, with the group USG Students 4 Grade Reform petitioning the system's board of regents to reconsider.
On Tuesday, Georgia state reps responded positively to the students' calls for a revamped policy:
"I just want them to know from me that we're going to do everything that we can in our power to have this conversation with the University System to find out how quickly can we get a pass/fail system in place because this has really touched my heart," said state Rep. Sandra Scott.

Scott's feelings were shared among other representatives, who took turns thanking the students for their efforts. State Rep. Michele Henson said she understands that people are struggling with different levels of access to internet broadband and expressed her desire to ensure broadband soon becomes available to students everywhere.

"In the meanwhile, my heart breaks for you and the stories you've told us," Henson said. "I feel it's so wrong on the part of our regent system to not allow for an opt-in pass/fail."

Reps. [David] Wilkerson, Scott, [Michele] Henson, [Angelika] Kausche and [Kim] Schofield explicitly expressed support for the pass/fail grade implementation.
Students 4 Grade Reform organizer Briana Hayes said that though the group has tried to get in touch with the system's Board of Regents, "they are not answering our calls."
MORE: Citing 'equity,' Harvard, Yale students demand 'universal passing'
IMAGE: Zambri Zakaria / Shutterstock.com
Like The College Fix on Facebook / Follow us on Twitter