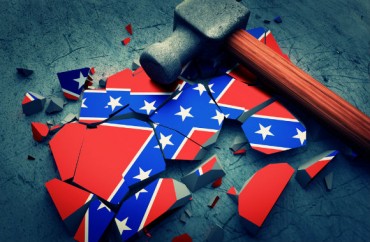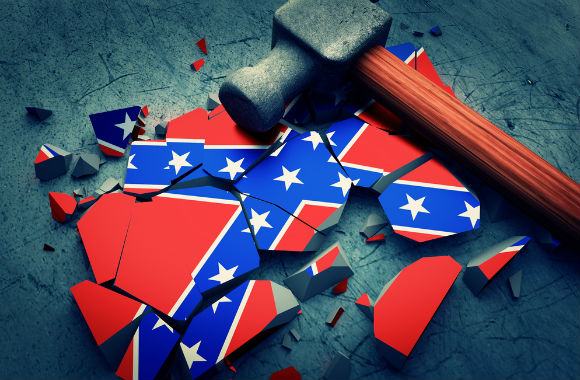 An Augusta-area, Georgia teacher has been placed on leave after putting up an image in her high school classroom which stated a Confederate flag is something "you put on the back of your pickup truck to announce that you intend to marry your sister."
It continued: "Think of it like a white trash 'Save the Date' card."
According to CBS News, a Hephzibah High School student informed her mother about it, who then took to Facebook to start a discussion about the incident.
Mom Melissa Fuller told the local CBS affiliate that many agreed the poster was "not morally correct" and "unethical." She noted her daughter had gotten an in-school suspension once for wearing a Confederate flag belt buckle (even after complying with administration requests to remove it), so how can a teacher get away with this?
The mom said her issue was not with the Confederate flag photo, it was with the text. "Why was that used? With it being such a rough area, why would you put that our there to a class discussion that could have turned very ugly?" Fuller said.

Fuller said she did not share the photo of the teacher's lesson on Facebook to get the teacher in trouble — just to get feedback from other parents, WRDW reports. However, when the story went viral, the teacher was put on administrative leave by the Richmond County School System.

"The Richmond County School System is committed to creating a diverse, equitable learning environment for all students," the district said in a statement reported by WRDW. "The language used in the example was unacceptable and has no place in our classrooms."
The affiliate has reached out to the teacher but has yet to receive a response.
Two and half years ago, another teacher in the district got into trouble for allowing his son to film a profanity-laced rap video in his classroom.
MORE: College dean refuses to resign over 37-year-old Confederate flag photo
MORE: Teacher tells student his 'Confederate' art project 'promotes racism'
IMAGE: Blade Tucker / Shutterstock.com
Like The College Fix on Facebook / Follow us on Twitter