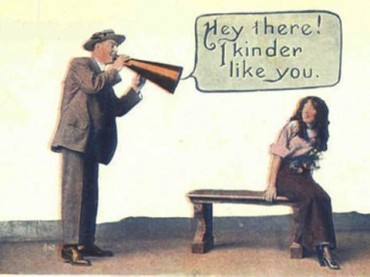 Dating has become so foreign to hookup-happy college students that Boston College philosophy professor Kerry Cronin will give her students extra credit for going on an old-fashioned date, according to the Boston Globe:
Cronin explains the assignment to her students as "wanting us to do something courageous," says freshman Frank DiMartino, who took the class. "It's easy to hook up with someone you've just met in a dark room after having a few drinks," DiMartino says. "But asking someone out on a date in broad daylight, and when you actually have to know their name, can be really scary."

Cronin's not expecting students to return to the courting culture of the 1940s or '50s, but she says it would be useful for them to revive and reshape the dating "script." "When my parents and grandparents went on dates they knew what to expect. That's what a social script is, that's why manners work — not because they're truths but because they make things easier," she says.
The social outing has some rules to make sure the date doesn't morph into a hookup:
Her assignment delineates specific boundaries so students know what to expect. The date has to be 45 to 90 minutes long with a person of legitimate romantic interest.

The student has to pay and has to make the invitation not by text or e-mail but in person … The date cannot involve alcohol, kissing, and sex.
Like The College Fix on Facebook / Follow us on Twitter
IMAGE: OnOnDagaCountyLibrary/Wikimedia Commons