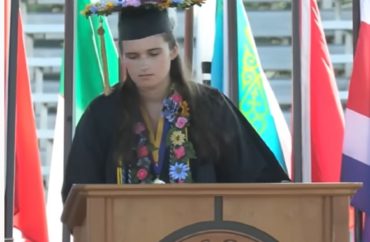 'Be the light!' she told her peers
A Rollins College valedictorian delivered a commencement speech, despite not being able to speak verbally.
Elizabeth Bonker (pictured) has autism and has not spoken since she was 15-months-old.
"God gave you a voice. Use it. And no, the irony of a non-speaking autistic encouraging you to use your voice is not lost on me," Bonker told her peers at her speech through a text to voice program. "Because if you can see the worth in me, then you can see the worth in everyone you meet."
She explained to her peers the obstacles she overcame:
I know something about shared achievements because I am affected by a form of autism that doesn't allow me to speak. My neuromotor issues also prevent me from tying my shoes or buttoning a shirt without assistance. I have typed this speech with one finger with a communication partner holding a keyboard. I am one of the lucky few non-speaking autistics who have been taught to type. That one critical intervention unlocked my mind from its silent cage, enabling me to communicate and to be educated like my hero Helen Keller.
"Personally, I have struggled my whole life with not being heard or accepted," Bonkers told her peers. "A story on the front page of our local newspaper reported how the principal at my high school told a staff member, 'The retard can't be valedictorian.'"
"Yet today, here I stand," Bonkers told the applauding crowd. "Each day, I choose to celebrate small victories, and today, I am celebrating a big victory with all of you."
She urged her peers to "be the light."
MORE: Donor pays off entire graduating class student loan debt
IMAGE: Rollins College/YouTube
Like The College Fix on Facebook / Follow us on Twitter