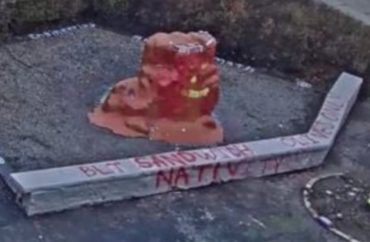 'Epitome of Indigenous erasure'
This is a bit hard to follow, but in a nutshell:
Northwestern University has a big campus rock that students can paint and decorate freely with no permission.
It had been "painted orange with a yellow smiley face since late October" (in the style of a jack-o-lantern) when someone added a pilgrim hat a few days before Thanksgiving, according to The Daily Northwestern.
Triggered by this seasonal American symbol, Native American students dumped red paint over the hat (to kill the pilgrim?) and added political messages: "BLM" (Black Lives Matter), "Land Back," "Natives Only" and "Native Land."
Less than 24 hours later, someone else had altered their renderings to read "BLT Sandwich" (above), "Olives Only" and "Nativity."
This jokey act of one-upmanship was actually violence directed toward Native Americans on campus, the Northwestern Graduate Workers union wrote in an over-the-top statement that must be read to be believed.
MORE: UW-Madison will move boulder accused of racism
"These messages pose a threat to Native graduate workers, students, faculty, and staff at Northwestern and are thus intolerable to us as an antiracist and feminist labor union that supports Indigenous sovereignty and resurgence, including the central demand of 'land back," the statement reads (bold in original).
Doctoral student Nikki McDaid-Morgan of the Shoshone-Bannock Nation told the Daily that she and other activists painted over the rock because the pilgrim hat "wasn't acceptable" and illustrated Northwestern's failure to educate students about Native Americans and what they call "Thankstaking."
Another doctoral student, Syd González, called the jokey repainting the "epitome of Indigenous erasure" and "an attempt to whitewash the true history rather than deal with the discomfort" of Thanksgiving's celebration of "genocide" and "continued theft and mistreatment of our lands and waters."
They responded by … repainting more political messages on the rock. As is their right. (The Daily credits two images of the rock to the Instagram account Paint the Rock, but the image showing the jokey alterations is no longer on that account.)
The student workers union used the incident to continue their longstanding criticism of Northwestern's alleged refusal to acknowledge founder John Evans' role in the so-called Sand Creek Massacre. Less than a quarter of its statement is actually related to the tit-for-tat over the rock.
MORE: 'White Lives Matter' on Kent State rock is 'direct threat' to black students
The pilgrim rendering of the rock shows, "at best, complete ignorance of the racism of Pilgrim mythology and at worst, an utter lack of respect for Native and Indigenous people," the statement reads. Native Americans repainted it as "an act of resistance" (how brave!).
Even though the rock can be repainted and decorated at any time without permission, the activists hoped that "these messages would remain on the Rock for some time, serving as a reminder that we live on stolen land and that Thanksgiving Day is a day of mourning."
In their own act of willful blindness, the grad workers ignored the Native Americans' desecration of the pilgrim and claimed the comical remixing of their political messages was "a despicable act of Native and Indigenous erasure":
Our community was offered an opportunity to reflect on the history of colonization and the ongoing Indigenous resistance and instead chose to continue our country's and our University's history of erasure. For this to occur on the National Day of Mourning [Thanksgiving] and during Native American Heritage Month is heartless and goes to show that Northwestern has yet to confront ongoing white supremacist and settler colonial beliefs within its own community, beliefs that are inherently violent and premised on the genocide and elimination of Native people.
The pilgrim hat and remixed political messages represent "anti-Indigenous hostilities," the workers continued.
Because it wouldn't be a progressive activist statement without an attempted shakedown, the workers encouraged members of the university community, "especially settler members" (everyone but Native Americans), to donate to several preferred organizations for "Native folks."
Read the Daily report and union statement.
MORE: Professor instructs students on 'decolonizing your Thanksgiving'
IMAGE: Paint the Rock/Instagram
Like The College Fix on Facebook / Follow us on Twitter