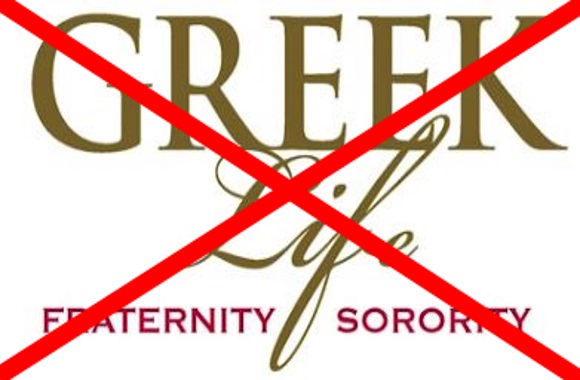 RealClearEducation and Slingshot Strategies' survey of Greek-letter students reveals a troubled climate for freedom of expression and association on college campuses nationwide
Most college and university students who belong to Greek-letter organizations believe their personal and organizational freedoms are under threat, according to the results of a nationwide survey of Greek Life members.
A majority don't feel comfortable disagreeing with a professor, feel there's pressure for their organizations to be booted from campus, and believe administrators would rather punish a student who said something controversial rather than defend free speech, the RealClearEducation survey found.
What truly stands out is the degree to which students are self-censoring due to the problematic existence of a "climate of fear" on college campuses, said Nathan Harden, editor of RealClearEducation, in an interview with The College Fix.
Harden said the survey reveals that "students are afraid to speak up if they hold an unpopular opinion."
Harden also pointed out that the prevalence of social media has only exacerbated the situation on college campuses as students are "afraid that whatever they say is going to come back to haunt them" and that there is a "culture of no mercy."
One moment "can be used to define you and be used to punish you for the rest of your life," he said. "We need to have a climate where people are free to disagree with one another."
A total of 4,620 students, comprising 1,805 fraternity members and 2,815 sorority members from more than 500 colleges and universities located across 36 states, took part in the online survey
Students were asked a variety of questions on topics ranging from the impact of the COVID-19 pandemic to the manner in which their Greek organization was treated by the administration and the wider campus community.
The results, published April 16, reveal that a substantial number of students are uncomfortable with voicing their opinions as they are fearful of both the administration and the wider campus community.
For example when students were asked how they felt about publicly disagreeing with a professor, 60 percent said they felt uncomfortable; only 38 percent said they would be comfortable.
Half of the respondents said they have felt the need to self-censor on campus, due to how fellow students, professors or the administration might respond to their speech.
When it came to potentially discussing controversial topics with fellow classmates, 60 percent of respondents said that they felt comfortable, outnumbering those who said they felt uncomfortable by a margin of 21 points.
Among all students surveyed, 38 percent stated that their college's administration would be more likely to "punish the speaker for making the statement," while only 23 percent stated campus leaders would "defend the speaker's right to express their views." Another 39 percent were "not sure."
This climate of fear seems to have been only exacerbated by the widespread use of social media, as 67 percent of students felt uncomfortable about hypothetically expressing an unpopular position on social media under an account identifying them by name.
Forty-five percent of all respondents believed that there is legitimate pressure for their Greek organizations to be kicked off campus, while 49 percent disagreed.
Here, a majority of fraternity respondents agreed that there is pressure to be kicked off campus (58 percent vs. 39 percent), while a majority of sorority respondents disagreed (51 percent vs. 43 percent).
Meanwhile, only 9 percent stated that they believe that their fraternity or sorority was being pressured to become a co-ed organization.
Harden called it "eye-opening" that "almost 10 percent of students said that there was pressure for their organization to turn co-ed."
He also said he and his colleagues were surprised so many Greek members believe there is pressure to be kicked off campus.
Additionally, it would appear that a substantial number of students feel as though their Greek Life experience is in jeopardy, as 35 percent of respondents did not feel confident in the future of fraternities and sororities at their institution.
Harden said he believes that such responses from students demonstrate a "due-process issue that is specifically relevant to fraternities and sororities" as the presence of administrations that apply "guilt by association" to Greek organizations is "stifling" and that "students have told us that they really feel that threat [from administrations] hanging over their heads at all times."
Nearly 60 percent asserted that they did not feel as though all student groups and organizations were treated fairly by their institution's administration, with 28 percent believing that it was "very often" in which their entire organization was punished for the misconduct of one member.
And while 72 percent of students agreed that student organizations on campus are free to determine their own membership, values and mission, only 56 percent agreed that their organizations were free to host events and speakers without interference from other students or the administration itself.
Harden said the degree to which students feared their fraternity or sorority would be punished for the actions of a single member was worrying.
Colleges and universities have a unique role in society, he said, and they are supposed to be places where the widest possible range of viewpoints are debated. Students are meant to "encounter new perspectives" and "test what they believe and why," he said.
However, Harden said he believes that based on this survey and other studies that this is not occurring on college campuses very often.
When asked how colleges and universities should ameliorate the speech climate on their campuses, Harden argued that while "no university will have a perfect speech climate… when a senior administration makes it a priority… they (students) do get the message and it makes a difference."
He said he hopes colleges and universities will look at the data and see that there is a need for improvement "and take steps to improve the speech climate on their campuses."
The survey was conducted between June and September 2020. For the purpose of context, 46 percent of the students who participated in the survey identified their overall political views as liberal; 33 percent identified as conservative.
Editor's note: Nathan Harden is a former editor of The College Fix.
MORE: This sorority accused a sister of racism after she anonymously criticized its woke agenda. Then they learned she's not white.
Like The College Fix on Facebook / Follow us on Twitter