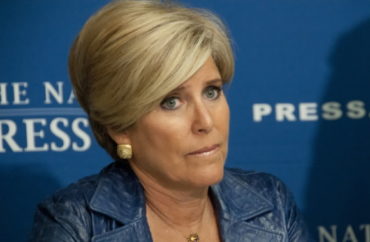 An organization representing 15,000 student affairs professionals apologized this week for a speech given to their conference by personal finance expert Suze Orman, calling the address "insensitive and offensive" for ignoring structural barriers to wealth creation.
On Wednesday, Orman was keynote speaker at the NASPA: Student Affairs Administrators in Higher Education's 2021 annual conference. But her speech drew immediate condemnation from attendees who believed her message did not adequately address issues such as race, gender, and class, which they believe serve as substantial impediments to financial success.
"We cannot discuss financial literacy without first acknowledging the inequitable and unjust systems that have prevented Black, Indigenous, Latinx, Asian, Queer, Trans, first-gen, low-income, and many other historically minoritized and marginalized communities from attaining education and generational wealth," said a NASPA press statement after the event.
"Suze's comments tied self-worth to financial progress, ignored the difficulties that many individuals experience when navigating existing systemic structures and tools, and used offensive language to describe the area of Chicago in which she grew up."
During the speech, Orman referred to her childhood neighborhood as "the hood" and "the ghetto."
I hate to say it but this keynote talk has gone south. Full of privilege and not centered on equity. Sorry to see this conference ended this way #NASPA21 pic.twitter.com/m2YUKiXHCh

— Diana (@TheDianaMendez) March 24, 2021
"I want us to really talk about wealth & money w/ a more nuanced intersectional lens," tweeted conference attendee Dr. Brit Williams.
"Saying 'put you 1st' is epistemologically at odds with many cultures," she added.
On their website, NASPA says they are committed to "enacting innovative student affairs research and practice that span boundaries, speak to intersectional lives, and advance inclusion and justice."
After the speech, Williams noted Orman's typical speaking fee was $75,000, but Orman later said she was giving the address for free.
In 2008, TIME Magazine named Orman as one of the world's 100 most influential people. That same year, she was honored by the Human Rights Campaign with a National Equality Award for her work on behalf of LGBTQ Americans.
MORE: Purdue's free-speech orientation program could go national, thanks to college bureaucrat group
IMAGE: Al Teich / Shutterstock
Like The College Fix on Facebook / Follow us on Twitter