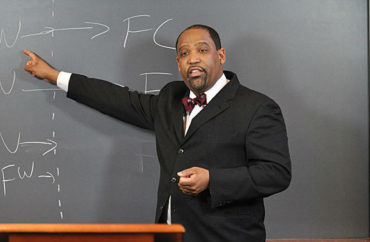 Calls for dean's resignation 'inconsistent' with Harvard values
Fifty-two members of the Harvard Law School faculty signed their names to a letter of support for Ronald Sullivan, their embattled peer under fire for representing disgraced Hollywood mogul Harvey Weinstein in his sexual-assault criminal trial.
The letter stresses Sullivan's devotion to the tradition of representing those who are accused of criminal conduct, no matter how reviled the accused is.
Sullivan serves as faculty dean of Winthrop House, where he's the subject of an investigation for choosing to represent Weinstein while leading the undergraduate residential college. He's also faced student protests calling for his removal as dean of the house.
Sullivan defended himself in an email sent to Winthrop students and tutors in which he wrote that "every citizen charged with a crime is cloaked with the presumption of innocence," according to The Harvard Crimson. He also pointed to his own experience of defending a black student arrested by police.
The letter by law faculty, published in The Boston Globe, points out that Sullivan has experience on both sides of the issue of sexual assault and violence. "For the past 10 years while serving as faculty dean of Winthrop House, professor Sullivan has represented alleged victims of sexual assault as well as people accused of sexual assault, murder, and terrorism," they wrote:
We call upon our university's administration to recognize that such legal advocacy in service of constitutional principles is not only fully consistent with Sullivan's roles of law professor and dean of an undergraduate house, but also one of the many possible models that resident deans can provide in teaching, mentoring, and advising students.
The letter also states that the signatories respect the rights of students to protest Sullivan's choice of client. But "any pressure" on Sullivan from Harvard's administration to resign his deanship is "inconsistent with the university's commitment to the freedom to defend ideas, however unpopular."
h/t/ The Crimson
MORE: Defending the Harvard prof defending Weinstein
MORE: Black professor first ever to be investigated as Harvard faculty dean
IMAGE: Harvard Gazette 
Like The College Fix on Facebook / Follow us on Twitter