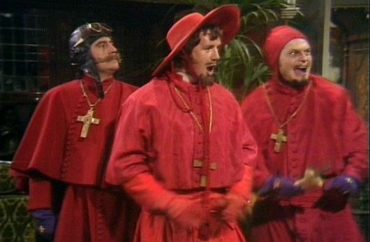 No sanctions allowed on any 'lawful' club
Harvard College Dean Rakesh Khurana chaired a faculty review committee that was supposed to consider less punitive alternatives to the administration's plan to punish students who belong to single-sex clubs such as final clubs.
Under his leadership, the committee endorsed an even more draconian plan that would outlaw membership in all private social groups at Harvard – punishable by suspension or expulsion. This option received votes from only 7 of 27 members, yet somehow became the committee's sole recommendation.
Now faculty who believe in freedom of association are speaking out again.
Khurana's predecessor as dean, Prof. Harry Lewis, submitted a motion for the Oct. 3 meeting of the Faculty of Arts & Sciences that could lead to a showdown with Khurana and outgoing Harvard University President Drew Faust, who has said freedom of association is equivalent to Jim Crow.
The motion, signed by Lewis and 20 other professors, reads:
Harvard College shall not discipline, penalize, or otherwise sanction students for joining, or affiliating with, any lawful organization, political party, or social, political, or other affinity group.

Explanatory note. This motion is intended to give students who join or form legal clubs or similar organizations the same protections that existing policies afford to all other students. It also secures their right of free association. If the policy is adopted, students could not, simply because of membership in a legal club, social or political organization, be sanctioned by the Administrative Board or by the Honor Council, or deprived of any academic or extracurricular opportunity or honor for which they would otherwise be eligible.
The first time Lewis introduced a motion against the proposed policy – at the time limited to single-sex clubs – it had 12 faculty signatures, including nationally renowned linguist Steven Pinker. Another signatory, Prof. Eric Nelson, warned that the policy implicated social groups "well beyond" final clubs.
Pinker and Nelson are signatories on the new motion, as is biologist Richard Losick, who previously assailed the administration for the hypocrisy of banning private social groups while recognizing "a wide variety of social organizations that are de facto single-gender, single-ethnic group, single-religion, or single-race."
Probably anticipating a resurgence of opposition to their even more punitive plan, Khurana and task force co-chair Suzannah Clark, a music professor, wrote faculty last week promising to "consult" with them and students "in the early weeks of the fall term before revising the document," The Harvard Crimson reports:
The committee plans to hold three drop-in faculty-only discussion sessions on Sept. 11, Sept. 14, and Sept. 15 in buildings across campus, according to the email.

"The purpose of these meetings is to give the faculty an opportunity to discuss with members of the Committee the preliminary recommendations, to ask questions about the report, to offer constructive criticism of the report, or to share any new ideas faculty may have," the email reads.

Several committee members will be present at each of these meetings, and the committee plans to install a record-keeper who will summarize what was said for later "review" by the full committee.
Students that sit on other faculty bodies will be able to submit "feedback," and it will be "taken into consideration."
Read Lewis's motion and Crimson story.
h/t Foundation for Individual Rights in Education
MORE: Harvard braces for litigation against private social group ban
Like The College Fix on Facebook / Follow us on Twitter
IMAGE: Monty Python