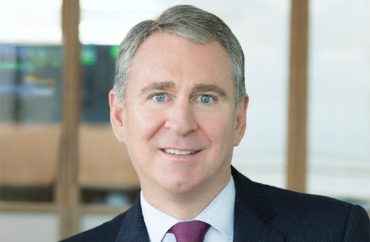 Donor 'will now be propping up a factory that specializes in producing people who hate him,' critic argues
Harvard University will rename its Graduate School of Arts and Sciences after alumnus and major Republican donor Kenneth Griffin in the wake of his massive donation of $300 million to the school, moves that prompted ridicule from both sides of the political spectrum.
"This unrestricted gift furthers Griffin's philanthropic legacy at Harvard, which spans four decades and totals more than $500 million," according to an April 11 article in The Harvard Gazette.
Megadonor Griffin (pictured) "is known for two things — his wealth, and his hefty contributions to Republican candidates," Boston.com reported.
He donated nearly $60 million to Republicans last election cycle, Politico reported in November.
Politico also reported he's willing to help bankroll Florida Gov. Ron DeSantis if he runs for the White House, adding "Griffin was the leading donor to DeSantis' reelection campaign [last] cycle, dropping $5 million."
Griffin is the chief executive of the Miami-based hedge fund Citadel and the 36th richest person in the world, according to Bloomberg.
"The irony is that Griffin—a DeSantis supporter, a man who complained about wokeness in Chicago's schools and moved to Miami—will now be propping up a factory that specializes in producing people who hate him," Nellie Bowles wrote April 14 in The Free Press.
"There's nothing a father won't do for his descendants, and TGIF [a column at The Free Press] would like to be the first to congratulate Kenneth C. Griffin's children, his unborn grandchildren, and their children on their acceptance to Harvard, presumably to study restorative justice."
Ross Douthat summed up the conservative reaction to Griffin's donation in a recent column for The New York Times.
"Here was a Republican donor, with every cause in the world to choose from, giving an absolute fortune to, of all places, Harvard — the Kremlin on the Charles, the fons et origo of so many liberal follies, the central shrine in the academic-progressive cathedral," Douthat wrote.
"At best, you could describe Griffin as a sucker, a more extreme version of the many right-leaning donors who gripe about wokeness at their alma maters but keep on writing checks out of a misplaced sense of loyalty," Douthat wrote.
"At worst, his donation just shows that the right's leading donors aren't conservatives at all, that the party is ruled by big money that's functionally liberal on every issue except the marginal tax rate."
The left also resented the gift, for different reasons, Douthat wrote.
"To fulsomely praise a Republican-leaning plutocrat for his philanthropy and even affix his name to your institution, the civil rights lawyer Alec Karakatsanis tweeted, exposes the Ivy League's pretensions to high-minded social concern as 'a cruel charade for laundering generational wealth,'" he wrote.
Harvard government and sociology Professor Theda Skocpol also called her employer out for accepting the gift and renaming the school after Griffin.
"I am absolutely disgusted at the sale of the GSAS name to a multi billionaire who works in US politics today to undermine the foundations of liberal civil society, including free speech, and to eviscerate the essential trans partisan features of fully representative US democracy," she told the Harvard Crimson.
Conservative writer Michael Brendan Dougherty wrote about the donation with bafflement in an April 11 piece in National Review titled "Giving to the Least Needy."
"Frankly, I don't understand this type of giving — to institutions that doubtless have greater financial endowments and privileges than one has oneself and many of whose actions are opposed to one's convictions," according to Dougherty.
"Such a gift would be worthwhile only if it came with greater restraints on Harvard's progressive consolidation," Dougherty wrote. "But, given that Harvard is in no need of resources, even from Ken Griffin, how could such restraints be effective?"
MORE: Towson U. students, faculty protest naming of auditorium after conservative professor
IMAGE: Citadel.com
Like The College Fix on Facebook / Follow us on Twitter