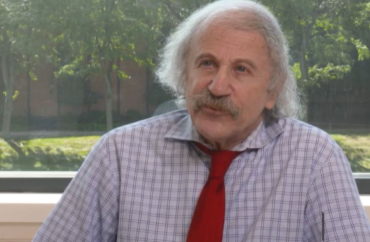 Highly decorated scholar under fire because he supports the free exchange of ideas
Richard Vatz, a professor of rhetoric and communication at Towson University who will retire in January after teaching at the Maryland-based institution for nearly 50 years, has accumulated numerous accolades and awards during his tenure.
He can now add campus cancel culture target to his list.
A group of students and professors are protesting the fact that a campus auditorium in which he has taught many classes during his decades at TU was recently named in his honor.
During the Dec. 9 ceremony, protestors lined up outside the building "with red and yellow warning tape and chalked 'X's' at the building's entrances," the Towerlight student newspaper reported.
"The weeks leading up to the dedication ceremony saw many students and faculty publicly denouncing the dedication due to Vatz's history of serving as the faculty adviser for student groups that have espoused white nationalism and bigotry," the student newspaper added.
Vatz is faculty advisor to the Turning Point USA chapter and was the faculty advisor to the now defunct Youth for Western Civilization.
The TPUSA chapter was the recent center of controversy for some rude comments posted in a group chat decried by some as racist and bigoted. The Western Civ group was behind white pride messaging.
Vatz has said he criticized the TPUSA group and told them to refrain from rude language in the future, and had immediately resigned as faculty advisor of the Youth for Western Civilization due to its messaging several years ago.
Regardless, several leaders of the Student Government Association, Academic Senate and Graduate Student Association have condemned the Vatz Auditorium naming.
"The announcement that he will have a room named in his honor is shocking, disappointing, and odious," states a letter from the cadre of complainants. "While we acknowledge Vatz's contributions to our community, we must not turn a blind eye to the harm he has helped nurture. As a long-time faculty advisor to student organizations smitten with hate, he has not upheld our university's aim to foster a climate grounded in respect and inclusion."
The protest may also be due to the fact that Vatz has been a vocal critic of the prevailing liberal-progressive biases in higher education and in professional academic associations.
The Baltimore Banner reported on why campus brass is willing to go to bat for Vatz:
Brian DeFilippis, Towson's vice president of university advancement, said in an interview that the university has a lengthy process for naming large buildings like stadiums and dorms, but not for naming smaller spaces like auditoriums.

The decision to dedicate the auditorium in Vatz's honor was made more than five years ago, he said. However, the move was only announced in recent weeks …

DeFilippis said the naming is really about what Vatz's philanthropy has done for thousands of kids. The longtime professor has done extraordinary things "and cares deeply about the university," DeFilippis said.

"As an institution, we support an open dialogue and a free exchange of ideas," he said, adding that this sometimes includes statements that are not broadly supported. "We need to be a place where those opportunities to exchange ideas continues to occur."

A university spokesperson said Friday that Vatz's contributions and pledges were substantial.

"In his lifetime, he has given six figures," he said.
In a 2020 video made to mark Vatz's 45 years teaching at Towson, the professor talked about his venerable "persuasion" course that he has taught since he arrived, as well as his passion for allowing students to disagree and debate civilly.
According to Vatz's faculty bio, he won Towson University's "President's Award for Distinguished Service," the university's highest honor, in 2004. In the 2009-10 school year he won the Towson Student Government Association Faculty Member of the Year and was the first Towson professor to win that award.
He also won the 2002 "Teacher of the Year Award" from the Student Government of Towson, and he has won an additional four Outstanding Teaching Awards, the most of any faculty member at the university, his bio states.
MORE: Check out The College Fix's Campus Cancel Culture Database
IMAGE: YouTube screenshot
Like The College Fix on Facebook / Follow us on Twitter