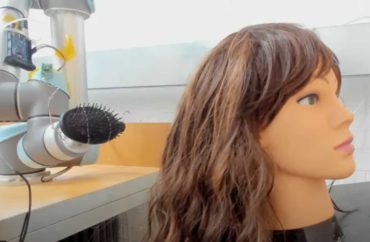 The professor's 5-year-old told him he was bad at brushing her tangled hair two decades ago, and 'his failure tugged at him for 20 years.'
Professor L. Mahadevan, a "bona fide genius" assembled a team of Harvard research scientists to solve a domestic dad problem – the difficulty of painlessly brushing tangled hair, the Wall Street Journal reported.
"Parents will be pleased to learn that Prof. Mahadevan and a team of researchers have also made headway finding a pain-free technique of brushing the tangled hair of children, as well as their own," the article stated.
It continued:
The task has the sheen of a personal quest. Two decades ago, while at Cambridge University's department of applied mathematics and theoretical physics, Prof. Mahadevan's domestic duties included brushing the unruly hair of his 5-year-old daughter.

At some point, she fired him. "It was very tangled," said the professor, who has little hair himself. "I was not doing a very good job of it because I wasn't very patient."

His failure tugged at him for 20 years. The professor finally assembled a team that employed mathematical models, conducted experiments and published a paper on their discoveries in the journal "Soft Matter"…

"At least half of humanity combs their hair every day, and yet almost no one pauses to think deeply about it," said Prof. Mahadevan, winner of a MacArthur Fellowship, also known as a genius grant. His expertise spans applied mathematics, physics, and organismic and evolutionary biology.
To figure out the physics of the problem, the team simplified the task to untangle two strands of hair that wound around each other "like a DNA helix."
The scientists calculated a variable called "link density" to apply to the tangled strands. The higher the link density, the worse the tangle and the greater the painful stress on the scalp.
Electrical engineer and computer scientist Daniela Rus at the Massachusetts Institute of Technology took up the team's computations in her own efforts to build a robot (pictured) to brush hair.
The robot's performance is "slower and more rhythmic than when you do it yourself," Professor Rus said. The brush on the robot detects tension, which reads as pain and determines the length of strokes the robotic arm uses.
Through robotics and physics, the scientists determined what "most parents have learned through trial and tearful error," the article stated.
Start at the bottom with short strokes, and work your way up.
MORE: Food delivery robots invade campus
IMAGE: MITCSAIL/YouTube
Like The College Fix on Facebook / Follow us on Twitter