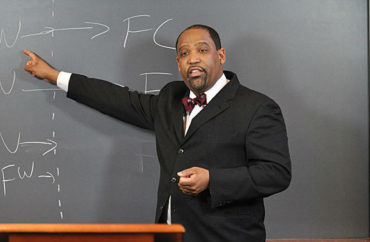 'Incestuous relationships' have 'delegitimized' newspaper's reporting
Harvard Law Prof. Ronald Sullivan's decision to represent disgraced Hollywood producer Harvey Weinstein at his criminal trial has roiled campus, beyond the students who claim he created an unsafe environment for them.
It has created surprising racial dynamics. Some members of Winthrop House, which Sullivan leads as faculty dean, accused the black professor's critics of racism or harassment.
The Harvard Crimson has become ensnared in the controversy for two reasons. One of its staffers is a leading activist against Sullivan and drew the caricature of him that some called racist. And now, another staffer has been subpoenaed in a legal action against Sullivan's critic.
The Crimson reports that it's fighting the subpoena by Carl and Valencia Miller against its staffer Shera S. Avi-Yonah to "testify in a deposition and give up reporting materials."
The Millers, who are black, serve as tutors in Winthrop House. They filed a defamation lawsuit against the faculty dean of Eliot House, Gail O'Keefe, who is white.
MORE: South Asian student, black tutors file police reports against each other
O'Keefe publicly accused them of acting "totally unprofessionally and dishonestly" by filing a police report against Eliot House resident Danu Mudannayake , the Crimson staffer and anti-Sullivan activist. The Millers accused Mudannayake of threatening their three-month-old child in the Winthrop dining hall.
The defamation suit against O'Keefe was filed April 11. It targets O'Keefe for her statements in a private text and an Eliot House listserv message.
Avi-Yonah reported on that listserv message and lawsuit, which says O'Keefe's text made false statements about why the Millers left Eliot House, where they served as tutors before joining Sulllivan's Winthrop House. Both defamation counts claim that O'Keefe "targeted" the Millers "because of the perception that Plaintiffs supported Dean Sullivan's representation of Mr. Weinstein."
The Millers' lawyer, George Leontire, submitted the subpoena a day before filing the lawsuit, believing that Avi-Yonah has "relevant or probative information" about O'Keefe's messages. It requests the reporter's communications and documents "concerning" the Millers, and those "sent to or received from" O'Keefe and Mudannayake.
MORE: Harvard opens first-ever investigation of faculty dean because he's black
He'll seek to compel the reporter's testimony at a May 14 deposition at his office, Leontire told the Crimson. The newspaper's president, Kristine Guillaume, said the paper will resist because "the media have traditionally — and properly — opposed efforts to turn reporters into agents of discovery for one side or the other in a civil suit."
Leontire has served five subpoenas so far and said he expects to issue "numerous" more, including against other Crimson staff.
Echoing Sullivan's criticisms of the paper in its reporting on his decision to represent Weinstein, Leontire alleged a "campaign of disinformation and bias" by the Crimson against his clients. He noted Mudannayake remains a Crimson staffer and said the newspaper's "incestuous relationships" have "delegitimized" its reporting, he said.
Read the subpoena and lawsuit articles.
MORE: Harvard students trying to take down Sullivan accused of racism
MORE: Sullivan under fire for 'participating in a tradition older than the nation itself'
IMAGE: Harvard Gazette
Like The College Fix on Facebook / Follow us on Twitter