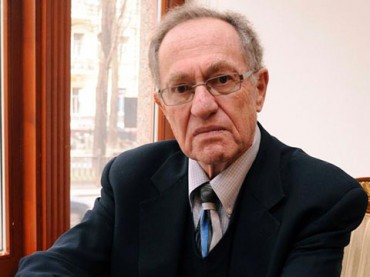 Harvard Law School's Alan Dershowitz is facing accusations of having had sex with a former minor "allegedly trafficked by a billionaire who previously pleaded guilty to soliciting prostitution."
According to a court filing from Dec. 30, the woman — identified as "Jane Doe #3" — had relations with the professor "at the urgings of Jeffrey E. Epstein," a billionaire for whom Dershowitz helped negotiate a plea agreement regarding the solicitation charge.
The Dec. 30 filing alleges that Epstein "forced" "Jane Doe No. 3" have sexual relations with Dershowitz "while she was a minor, not only in Florida but also on private planes, in New York, New Mexico, and the U.S. Virgin Islands." The filing also accuses Epstein of trafficking "Jane Doe No. 3" to "many other powerful men, including numerous prominent American politicians, powerful business executives, foreign presidents, a well-known Prime Minister, and other world leaders."

The Dec. 30 court filing is part of civil case challenging Epstein's plea deal. The filing also includes allegations against Prince Andrew, the Duke of York and a member of the British royal family.

In an interview Sunday, Dershowitz denied even the possibility that the accusations against him are true and said he will take action to disprove them. Specifically, he said he would file to intervene in the case so as to "prove under oath that [the accusations] never happened."

Dershowitz called the allegations "totally false and totally made up in every respect."

"I will be completely vindicated," he said.
In addition, Dershowitz said it was "fascinating" that these accusations came forth shortly after he and other Harvard Law School professors, during the debate about the school's sexual harassment procedures, had demanded basic due process rights for those accused of sexual assault.
Like The College Fix on Facebook / Follow us on Twitter
IMAGE: Sergei Chuzavkov/AP