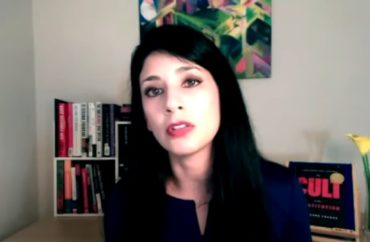 Imagine Anthony Fauci getting to decide what is true.
A First Amendment law professor said that she wants to see the federal government police social media for medical "misinformation" with people being held accountable under the threat of federal prosecution.
"Prohibiting a narrow category of factually false health misinformation that causes measurable harm is consistent with the First Amendment," Professor Mary Anne Franks (right) said during a recent discussion. "My own view is that this would probably be better accomplished by making such misinformation a fedearl [sic] criminal offense, to which Section 230 doesn't apply," the University of Miami Law School professor said. Section 230 of the Communications Decency Act protects social media companies from liability for content posted on their platforms.
The culpability would appear to be directed at the company, not the poster, though it remains unclear.
She made the comments during a virtual discussion with Matthew Ingram of the Columbia Journalism Review about social media and a proposed bill from Democratic Senator Amy Klobuchar.
Ingram said:
The bill seems to be trying to carve out a loophole where the First Amendment wouldn't apply, provided the information in question was specifically defined by the government or its agents as being health-related disinformation, and that it was being circulated during a pandemic or other crisis. Do you think that argument has any merit, or any hope of succeeding?
Franks, who wrote a book called "The Cult of the Constitution: Our Deadly Devotion to Guns and Free Speech," said that she thinks the legislation is "well-intentioned."
"I personally think Biden had it right the first time when he said that Facebook is killing people," Franks said. "Vaccine misinformation, boosted by sites like Facebook, is leading to preventable deaths."
She said that the Minnesota Senator's bill "would remove COVID misinformation during the pandemic from that protection" which would make it easier for someone to sue for the "causal relation between the social media site allowing the information to appear and the harm that they suffered."
"There's always a lot of handwringing over slippery slopes when it comes to restricting speech," Franks said, "but what about the slippery slope of allowing billion-dollar corporations to profit from speech that literally gets people killed?"
Ingram denies that censorship exists
In a discussion about misinformation and social media truth, Columbia's Ingram makes a number of false statements, undermining the concept that a fact-checking model would work. (Read more about how Facebook's fact-checkers sometimes disagree.)
He started off by claiming that conservatives are concerned about Big Tech for "distributing disinformation, allowing hate speech, and so on," a claim quickly corrected by Franks.
Ingram also claimed that there is no evidence "that Facebook and Twitter and YouTube censor conservatives," an assertion that would ring untrue to Steven Crowder, Dennis Prager, The College Fix, feminist critic Carrie Gress, Live Action, and my former employer, Students for Life of America.
MORE: Pitt medical students create oath against 'misinformation'
IMAGE: Washington and Lee University/YouTube
Like The College Fix on Facebook / Follow us on Twitter