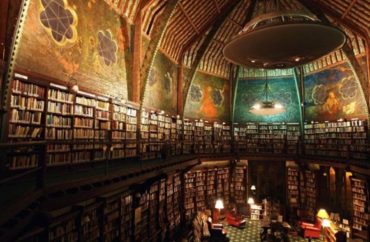 Hint: avoid the Ivy League and other elite schools
I wrote yesterday on a writer's Wall Street Journal op-ed in which she argued that her students — inmates in a maximum security men's prison — have retained the habits and environment of liberal learning that their college peers have lost.
"Many of us who care deeply about education in the humanities can only feel despair at the state of our institutions of 'higher' learning," educator and writer Brooke Allen wrote Sunday in The Wall Street Journal.
Enrollment is way down, reductive ideologies have taken over the humanities, and technology has depleted attention and facilitated wide-scale cheating.
In contrast, Allen wrote, at prison she is free to teach enthusiastic students primary texts in literature and history, for example, "classes on the Enlightenment, the Renaissance, Romanticism, George Orwell, South Asian fiction."
Those who would like to pursue such an education can still find it beyond bars, however. In addition to prison, here are three ways that it is still possible to pursue a strong liberal arts education.
Attend a classical high school, or teach at one, or send your children. While post-graduate classical education is diminishing, the classical high school movement is growing rapidly. This option "differs profoundly from the instruction offered by modern district public schools," according to a 2021 article by the Manhattan Institute. "It is heavily oriented toward the liberal arts, guided by the Western canon, and grounded in Greek and Roman traditions of academic excellence."
In a Feb. 27 article for First Things, Mark Bauerlein advises underemployed humanities PhDs to join the classical primary high school revolution.
"It's a job that will allow you to teach what you love," he wrote. "You won't be a grunt in the insistent hierarchy of the college campus any longer. You'll be a valued part of an academic enterprise. You'll be respected, you'll be wanted. The academic job market for fresh PhDs has been horrible for decades, and never worse than in the last 10 years. It has made you into one of a thousand sellers in a buyer's market, with the zero prestige that goes with it. You needn't go through it any more."
"In this job, the supply/demand will be reversed," Bauerlein stated. "The higher-ups will need you. Your training will be honored. For example, check out this ad, and this one, and this one."
The Institute for Catholic Liberal Education posted nine jobs to its network in the last 19 hours, as of this writing. It has schools in nearly every U.S. state and several abroad.
Great Hearts Academies, a network of tuition-free, secular charter schools grounded in the classical and Judeo-Christian traditions, is growing faster than it can meet demand. It has campuses in Texas, Louisiana, Florida, and Arizona. Great Hearts' mission is to "cultivate the minds and hearts of students through truth, goodness, and beauty," according to its website, and its reading lists emphasize primary texts and the classics of Western civilization. Technology serves education, not vice versa. Students read physical books, smart phones are forbidden and DEI statements are nowhere to be found.
Go to a Christian college. Some Catholic and other Christian liberal arts colleges remain keepers of a humanistic legacy abandoned by their secular peers, not unlike medieval monasteries preserving classical texts in the Middle Ages.
English professor Jeff Bilbro at Grove City College, a Christian university in Pennsylvania, explained why he believes humanities majors are up at his school despite a national decline.
"One possibility [for the popularity of the major] is that many of our students come from classical or homeschool backgrounds, and those cultures and networks have done a good job articulating the value of liberal arts formation and the importance of reading and writing well," Bilbro told The College Fix last August.
"We place an emphasis on close readings that attend to the aesthetic form and moral import of a given work," he wrote.
That's a far cry from the reductive humanities education on offer at most elite schools, where teaching is largely driven by particular ideologies of race, class, gender, and other political topics du jour. 
Learn online, ideally with like-minded peers and teachers.While brick-and-mortal schools may have abandoned their mission to teach the classics, rigorous humanities education is reflected in ten thousand places (or more) on the internet. Great Books stalwart St. John's College recently offered a podcast bringing its educational offerings to a wider audience. The nonprofit Catherine Project funds free seminars on foundational texts to learners of all backgrounds. The Arete Society for Classical Learning offers an abundance of resources to homeschoolers and lifelong learners.
Great books learning is best done in community, and advanced work in the sciences and other disciplines requires technology that may be challenging to access. But there are many ways to find workarounds.
Our country contains a wealth of educational resources for those who know where to look. All we need are the right habits, a like-minded community, and the leisure to seek out the wisdom of the present and the past.
MORE: The conservative case for the liberal arts
IMAGE: Oxford University Libraries/The Oxford Union Library
Like The College Fix on Facebook / Follow us on Twitter