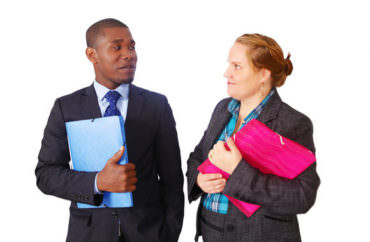 UPDATED
'The proportion of diverse tenured faculty hired' is lower with an 'active CDO'
Chief diversity officers at major educational institutions are known for their enormous salaries. One eye-opening example is the University of North Carolina's CDO, who earns substantially more than the governor.
Colleges might want to revisit these salaries in light of new research that finds no "significant statistical evidence" that CDOs do anything to improve "preexisting growth" in the academic hiring of "underrepresented" racial and ethnic groups on campus.
The National Bureau of Economic Research working paper, which has not been peer reviewed, said more than two-thirds of "major" American universities (classified as "Carnegie R1, R2, or M1" with at least 4,000 students) had CDOs in place in the 2016 academic year.
Baylor University researchers studied hiring cycles from 2001-2016 and combined Department of Education data with their own collection on executive-level CDO data.
While the authors concede that "it simply may not be possible to rapidly increase faculty diversity given the pool of available faculty candidates," their findings are clear that hiring a pricey executive and banging out a press release doesn't help.
Some research has found statistically significant improvements in retention, passing classes and overall grades when underrepresented minority students have instructors who look like them, they say, but the process doesn't seem to work for CDOs and hiring.
This runs counter to predictions from research by University of Michigan officials in 2007, cited in the study. They said that the "complexities [of] infusing diversity into the curriculum, enhancing the compositional diversity profile of students, faculty, and staff, and developing policies designed to improve the campus climate," require the presence of CDOs as "powerful integrating forces." (UMich pays its CDO nearly $400,000.)
MORE: Take a gander at UMich's $7 million diversity payroll
The "nascent academic literature" on CDOs is largely based on "case studies from a handful of interviews with current CDOs" rather than a serious data-driven approach, according to the Baylor researchers: "To the best of our knowledge, our study is the first large-scale statistical analysis of the effects of a university CDO position on the diversity of faculty and administrator hiring."
One of the "perhaps" surprising findings is that "the proportions for underrepresented groups has been consistently higher in universities without a CDO than with a CDO present over this time period," they say.
The failure of the CDO to have any overall measurable benefit may be due to "the lack of authority the CDO has over hiring decisions," the paper says:
Hiring decisions are generally entrusted to departments given their expertise in the field. Cabinet-level officers might, in effect, have very little influence in decisions made at the department and college level.
The researchers acknowledge the possibility that universities are hiring CDOs primarily as PR vehicles:
Our discussion assumes the objective of universities in our sample is to increase the proportion of faculty and administrators who are members of an underrepresented group, subject to various constraints. … However, if a university hires a CDO to appease critics or to quell negative publicity with no intention of increasing diversity, then the lack of a significant effect on faculty diversity is less surprising. Under this scenario, even negative and significant effects of a CDO on diversity may be found …
MORE: Auburn keeps hiking tuition while paying diversity bureaucrats $800k
That's right – their study finds that "the proportion of diverse tenured faculty hired is 5.61% lower with an active CDO in place." Lower.
They caution that they don't have an "identification strategy" to distinguish universities with "strong intentions to increase diversity from those with placating motives."
The paper consistently calls for more research to test whether CDOs are really this useless for their stated aims, and if so, why:
Our inability to identify a significant effect should not be interpreted as an argument that an effect does not exist. … Although important progress has been made in increasing faculty and administrator diversity from 2001 to 2016, we believe more work must be done to better understand barriers to increased diversity, and how they might be best addressed.
Lead author Steven Bradley seemed at pains to head off criticism of the study by noting its limitations in an interview with Inside Higher Ed.
The professor of entrepreneurship said he and colleagues James Garven, Wilson Law and James West were driven to study the subject because a "key job function" of the CDO is securing more faculty diversity (racial, not ideological, of course), and it's an expensive position to hire.
But the data they collected "only allowed us to examine hiring practices in detail," as opposed to the "many other duties" of a CDO that may justify their high price tag, such as "stemming attrition, promoting a positive climate, etc."
Critics are sure to cite the "financial support" given to the study by Baylor's Baugh Center for Free Enterprise. It shows up on a Center for Public Integrity list that says it received more than $170,000 from foundations associated with free-market philanthropist Charles Koch* in 2013.
Bradley told The College Fix in an email that the Charles Koch Foundation "didn't have any role in our pursuit of this project, not to say they wouldn't be interested like anyone working in higher education."
He has yet to see Koch critics seize on the connection to the Baugh Center to attempt to discredit his research. The center's financial contribution was lending student workers to the researchers to manually search for universities with "CDO or equivalent positions and the start dates" – data that were not available through other channels.
"CKF is completely uninvolved in the types of research projects we choose to do," in contrast to the "far more direct[] and intrusive" role of the National Science Foundation and other nonprofit funders, Bradley said: "They are very hands-off. I wish people knew this."
Read the abstract and Inside Higher Ed report.
UPDATE: Lead author Steven Bradley contacted The Fix after this article was published to say the Charles Koch Foundation did not play a role in the research and explain the Baugh Center's financial contribution. His comments have been added. 
MORE: University of Florida gets $280k CDO
MORE: Ohio University gets nearly $200k CDO
MORE: Purdue nixes its CDO!
h/t Instapundit
IMAGE: se media/Shutterstock
Like The College Fix on Facebook / Follow us on Twitter