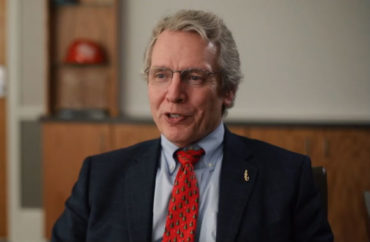 Says his views are 'very much in line' with his 'peers across the country'
Earlier this month, an English professor blamed the nation's education schools for turning out a generation of college administrators who instill politically correct panic in their students.
The explosion in campus bureaucracy is largely responsible for the "alternate curriculum" that teaches "anything that could be construed as bigotry and hatred should be construed as bigotry and hatred" and part of an "epidemic," Lyell Asher wrote in Quillette. He blamed his own Lewis & Clark College for playing a role.
The University of Florida's David Parrott is not part of the problem Asher describes. But as the vice president of student affairs told The College Fix, he doesn't think his profession is plagued by intolerance and hypersensitivity.
Parrott took an unusual step for a campus administrator shortly after Asher's essay made the rounds.
He not only publicly defended the right of an unpopular campus group, the UF chapter of Young Americans for Freedom, to spread their conservative message without disruption from critics. Parrott suggested UF needed more groups like YAF.
"Diversity and inclusion is crucial to our campus community. We usually hear diversity used in reference to race, ethnicity and gender identity, all of which are appropriate and important," Parrott wrote in a Tampa Bay Times op-ed.
"Also important to a vibrant and inclusive campus community is diversity of thought," as well as diversity of backgrounds, "including those from sparsely populated rural counties," ROTC members and veterans, he wrote.
Check out this excellent op-ed from @UF's David W. Parrott (@VPSAParrott) in the @TB_Times, addressing the practical question of how universities support free speech on campus https://t.co/oTLT23cvJX

— AAU (@AAUniversities) March 22, 2019
Troubled that students increasingly want the speech of others punished
Earlier this semester the YAF chapter hung a "Build the Wall" banner on campus, with permission from the university. It was torn down and stolen twice, according to Parrott.
The second time, its members were recording video. They chased down the thieves, who were fellow students. (One of the chapter's members claimed it was stolen three times, and that the club filed three police reports.)
Campus police and Parrott's staff, "as they frequently do, used the incident as what we in higher education like to call a teachable moment," Parrott wrote in his op-ed. "The two groups of students were separated and received instruction on the First Amendment and where people's rights begin and end."
MORE: Antifa subjects YAF meeting to profanity-laced tirades
The thieves were made aware that taking the banner was not "an exercise of free speech," which "applies to all opinions, not just those we agree with," Parrott wrote. "Tolerance and respect must be demonstrated across the entire political spectrum – liberal, conservative and everything else."
He said he was troubled by students "more frequently" saying that "their speech is fine and should be protected" but other speech "offends them and should not be protected":
We must guard against the stripping of our constitutional right to free speech. We must also find ways to dialogue across our differences. Both are required for a vibrant democracy.
A history of teaching the First Amendment in higher education courses
Parrott attributed his appreciation for free speech and tolerance to his vast experience and particular teaching curriculum.
"I've spent more than 30 years working at universities across four states," he told The Fix in an email:
I've spent time teaching the 1st, 4th and 14th Amendments in Master's and Doctoral classes that focus on the Application of Law in Higher Education. Through those experiences – both in study and in practice, I've learned the value that diversity of thought brings to college campuses.
Just as many college officials describe diversity of race, ethnicity and gender as a prerequisite for success after college, Parrott said the same about diversity of thought.
MORE: Purdue's free-speech orientation program could go national
"To maximize the educational experience and to ensure that students are prepared to navigate and lead in the larger world, they must be able to understand and articulate a multitude of perspectives and world views," he said.
The process of learning to think critically and find one's voice is "messy," according to Parrott (left), but the "healthy conflict of ideas adds vibrancy" to the college experience and "sets the stage for well-informed decision making."
Education should prod students to "shape and polish each other through dialogue, debate, and finding common ground through understanding the human condition," Parrott said.
But the student affairs professional also disputed that he's an outlier in his field for his public defense of free speech and tolerance for opposing viewpoints.
He's a member of the National Association of Student Personnel Administrators, whose members play a large role in campus speech disputes. "[M]y views are very much in line with what I've seen from my peers across the country," he told The Fix.
Many administrators are 'the source of intellectual intolerance' on campus
An official with the National Association of Scholars disagreed with Parrott's high view of his field, but praised the University of Florida official for his public defense of free speech.
"It's rare that [a] college administrator would value or protect the intellectual expression of their students or attempt to cajole meaningful conversation on the topic of that other sort of diversity and inclusion," Chance Layton, communications and membership coordinator, told The Fix in an email.
He praised Parrott's citation of Cornel West, the Harvard University philosopher, who has said democracy depends on "virtues of intellectual humility" and "willingness to listen attentively and respectfully to intelligent people who challenge one's beliefs."
"If every university administrator pushed for" the virtues advocated by West and Parrott, "American universities would stand in peer with their lofty mission statements and the purpose of college – the pursuit of truth," Layton said. "Unfortunately, many academic administrators are often the source of intellectual intolerance and the leftist monoculture on campus."
Jay Schalin, director of policy analysis at the Martin Center for Academic Renewal, was less enthused by Parrott's "teachable moment" in response to the repeated theft of YAF's banner.
MORE: Non-academic college bureaucrats more than double in 25 years
"In order for teaching to work, somebody must be willing to learn, and many who try to silence speech are already closed to other views," Schalin told The Fix in an email. "Punishment, on the other hand, can act as a brake on potential future offenders."
Schalin wrote a recent report that said the politicization of education was happening "by design" and, like Asher concluded in Quillette, it was driven by schools of education.
But he was also impressed by Parrott's op-ed. "It is heartening to see that the University of Florida's administration takes free expression seriously. In recent years, many other schools have looked the other way when similar incidents have occurred; perhaps the tide is turning."
MORE: Diversity program tackles bigotry of mocking rural dialects
IMAGES: UF Student Affairs/YouTube, University of Florida
Like The College Fix on Facebook / Follow us on Twitter