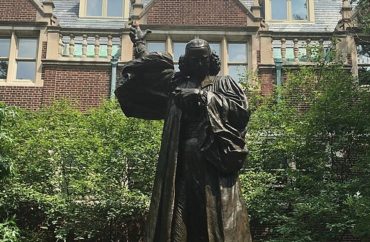 Some credit Whitefield's preaching with 'the genesis of African-American Christianity'
The University of Pennsylvania is jumping on the bandwagon of erasing history. The question is whether it understands – or wants to understand – what it's erasing.
The Ivy League institution announced July 2 that it was removing a statue of evangelical preacher George Whitefield, saying he "led a successful campaign to allow slavery in Georgia."
It claimed in a lengthy Twitter thread that this was "undeniably one of Whitefield's principal legacies."
Two historians of American religion, however, told The College Fix the university is misstating Whitefield's legacy and omitting important context.
"If you look at history books you can measure legacies. Histories of slavery in the United States do not feature Whitefield," Darryl Hart (left) of Hillsdale College wrote in an email.
"Histories of religion in the United States," on the other hand, "do feature Whitefield. That indicated that his legacy, as historians practice their work, was in religion, not slavery," Hart said.
The Methodists who erected the statue at Penn (above) "a hundred years ago did not erect a monument to slavery," added Richard Gamble, also of Hillsdale. "They may have been naive, guilty of selective amnesia, or somehow irresponsible, but I think their original intentions need to be taken into account."
Whitefield's preaching to slaves prompted such a large wave of conversions, according to Christianity Today, "that some historians date it as the genesis of African-American Christianity." Several responses to Penn's tweet thread offered to take the statue off its hands.
Penn media relations and its chief spokesperson ignored several phone and email queries from The Fix over the past week to respond to criticisms that the administration is misstating Whitefield's legacy and promoting a flawed historical narrative.
No evidence given to back Penn's claim about his 'principal' legacy
The death of George Floyd at the hands of Minneapolis police over Memorial Day weekend triggered just the latest wave of statue vandalism across American cities. Protests against police brutality have incorporated calls for statue removals as well.
Historical figures not generally associated with slavery have not been spared either.
Penn's announcement of Whitefield's removal briefly explained the preacher's presence on campus. He owned a "church meeting house" in Philadelphia that its founder Ben Franklin purchased to house one of Penn's predecessors, the Academy of Philadelphia.
Despite an 11-tweet thread justifying Whitefield's removal, the administration offered no evidence to back its claim that slavery advocacy was one of the preacher's "principal" legacies, much less that this assertion was historically settled.
"We make this change after careful consideration of what it means for our campus community, both now and into the future," the elite institution wrote. Its case for removing Whitefield is "overwhelmingly strong."
The university revealed its deeper purpose in another tweet:
It is important that we fully understand how the institution of slavery—a profoundly shameful and deeply tragic part of American history—affected Penn in its early years and that we reflect as a university about the current meaning of this history.
MORE: Several historic statues removed, toppled at Oregon campuses
Honoring him with a statue on our campus is inconsistent with our University's core values, which guide us in becoming an ever more welcoming community that celebrates inclusion and diversity. 3/11

— Penn (@Penn) July 2, 2020
Recognizing Whitefield is thus "inconsistent with our University's core values, which guide us in becoming an ever more welcoming community that celebrates inclusion and diversity."
Whitefield is likely not the last to be erased, the university made clear. It set up a "Campus Iconography Group" that will make recommendations on which "statues and other prominent iconography" should be removed.
The goal is that remaining campus iconography "better reflects our achievements and aspirations to increase the diversity of the Penn community":
These past months have made our country and our community more aware of the systemic racism that has infected so much of our society for so long. It is critical that we take the needed steps at Penn both in how we operate, and also in who we celebrate and commemorate.
To justify its exclusion of Franklin, a slave owner, from the same treatment, Penn said: "Franklin changed course in his life and went on to become a leading abolitionist."
Penn recognizes that some of its trustees, including our founder Benjamin Franklin, had owned enslaved persons. Importantly, Franklin changed course in his life and went on to become a leading abolitionist. 6/11

— Penn (@Penn) July 2, 2020
Denounced 'the mistreatment of slaves' he witnessed
The university didn't extend the same courtesy to Whitefield by providing more context about the preacher's relationship with African Americans and slavery, or even discussing his legacy of evangelism in the American colonies.
The historical record suggests that Whitefield was progressive for his time in urging slave owners such as Franklin to treat their slaves humanely and kindly. He set an early trend among preachers by taking pains to preach to slave audiences.
Whitefield "threatened God's judgment upon those who would keep the slaves from hearing the gospel," according to a 1994 paper by William Sloat in Methodist History, "George Whitefield, African-Americans, and Slavery." The preacher argued that blacks were "by nature, no worse nor no better than whites."
Sloat offered evidence that Whitefield planned to establish black congregations, including in Philadelphia. In a journal entry from May 11, 1740, the preacher wrote: "I intended, had time permitted, to have settled a Society for negro men and negro women; but that must be deferred till it shall please God to bring me to Philadelphia again."
In a letter a few months earlier to the southern colonies, "Whitefield publicly declared his passionate opposition to the mistreatment of slaves which he observed during his trip through the southern colonies," Sloat wrote.
The preacher even accused some slave owners of treating their slaves like they would dogs or horses on their plantation.
MORE: GW groups want Madison, Monroe, Churchill removed from campus
"The funds for the statue were donated by Methodist clergy and laymen who wanted to honor one of the most formative influences on their evangelical movement in colonial America," HIllsdale's Gamble (right) wrote in an email.
"They sought to commemorate his contributions to preaching, his friendship with Ben Franklin, and his associations with the founding of what became Penn," the historian told The Fix.
Penn's tweet thread drew interest among religious leaders who wanted to save Whitefield's statue from destruction or removal from the public.
Brian Fairchild, who leads a nondenominational congregation with Baptist beliefs, said he would "gladly cover the expense of removing and transporting the piece to a location where it will be properly cared for and appreciated."
Presbyterian pastor Matthew Everhard, a self-identified scholar of early American preacher Jonathan Edwards, also offered to "volunteer my services to help find an appreciative institution or congregation. Other aspects of [Whitefield's] work are appreciated by some."
A United Methodist pastor, Daniel Griswold, suggested a replacement for Whitefield: his contemporary John Wesley, whom the United Methodist Church considers the founder of the Methodist movement.
Wesley opposed slavery and encouraged the British statesman William Wilberforce "to end the slave trade," Griswold wrote.
The Fix reached out to Penn's Office of University Communications and Director of Media Relations Ron Ozio, by phone and email, nine times between July 7 and July 13. Neither responded to any message.
MORE: Professor cheers teardown of abolitionist statue
IMAGE: By The Pancake of Heaven/Wikimedia Commons
Like The College Fix on Facebook / Follow us on Twitter