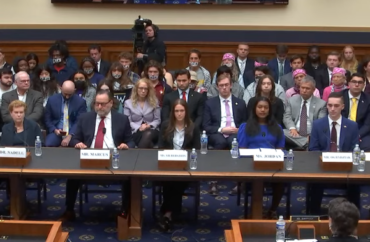 'Conservative students currently face a relentless uphill battle for representation on campus,' one student said
Congress held a hearing on Wednesday in response to the censorship of conservatives and rampant antisemitism that has recently roiled college campuses, a panel that was disrupted when pro-Palestine protesters interrupted testifying students.
Witnesses testifying at the House Judiciary's "Free Speech on College Campuses" hearing included Jasmyn Jordan, current chairwoman of Iowa Young Americans for Freedom at the University of Iowa, Connor Ogrydziak, former chairman of the University of Buffalo's Young Americans for Freedom, and Amanda Silberstein, a Jewish student at Cornell University.
While attempting to give his testimony, Ogrydziak was interrupted six times by pro-Palestinian protesters shouting phrases like "Free Gaza," "Palestine liberation is not antisemitism," and "Palestinian students should not be censored."
Pro-Palestinian protesters also interrupted Silberstein and another witness, Pamela Nadel, director of the Jewish Studies program at American University. Other protesters were silent and opted to raise red-painted hands with "Gaza" written on their palms and had tape covering their mouths.
About 10 demonstrators were arrested for crowding or obstructing a public building, and at least one of the protesters was charged with assault on a police officer, The Hill reported.
Once the protesters were removed, Ogrydziak continued to explain his experiences of the anti-conservative freedom of speech bias he witnessed as a leader of UB's YAF chapter, including pushback, protests, threats and misconduct made by administration, students and staff at UB when the organization hosted Allen West and Michael Knowles on campus.
"Regardless of what side the political aisle you reside on, it should be common ground that no student deserves to be threatened, mistreated or silenced on campus due to their personal beliefs," Ogrydziak said. "Conservative students currently face a relentless uphill battle for representation on campus."
Similarly, Jordan expressed that conservative viewpoints are not protected on college campuses and are instead punished by peers and professors.
"The playing field for freedom of speech on college campuses is not equalized," Jordan said. "Conservatives often have to hide who they are and what they believe in so that they do not lose relationships or receive a lower grade or face constant doxing, harassment, intimidation or threats."
Jordan appeared to fight back tears as she recalled the backlash she personally received when Iowa YAF hosted Kellyanne Conway last year.
"I was doxxed in a group chat of over 800 students and was falsely labeled as a Nazi, a token, a white supremacist and a bigot," Jordan said in her testimony. "Some individuals even expressed that I made them uncomfortable and feared that I might commit a hate crime against them, simply because I am black and hold conservative principles."
Ogrydziak also expressed his distaste for anti-Israel demonstrations on his former campus.
"Something that has particularly concerned me recently, both on campus and off, is the outward support for Hamas under the guise of support for Palestinian civilians," Ogrydziak said in his testimony. "Support for Hamas is support for a terrorist organization."
As a Jewish student at Cornell, a university that has seen vast support for Hamas and Palestine, Silberstein shared examples of antisemitism she has become victim to since Hamas attacked Israel on Oct. 7.
Silberstein described a recent incident in which a Cornell student said he wanted to "shoot up the Kosher dining hall" and "gang rape all Jew pig women on campus." The student even encouraged people to "follow them (Jews) home and slit their throats," according to Silberstein's testimony.
During the hearing, North Carolina Rep. Deborah Ross asked the witnesses why it is important for students to have the freedom to explore a wide range of ideas on campus.
"It is critical that the university continues to uphold the value of free speech because what happens on the university campuses is that these are the places where our students learn to be future leaders," Nadell said. "How are they going to learn to be future leaders if they are not exposed to opposite ideas and different points of view?"
Inside Higher Ed reported that while Democrats and Republicans at the hearing seemed to agree antisemitism is a problem on college campuses, that is "where the consensus ended."
Democrats suggested an increase in funding to the Department of Education's Office for Civil Rights, but Republicans pushed back on the notion, saying the solution is not to pump money into the federal government when local, on-campus solutions are what's needed.
"In addition to their disparate views on how to address hate on campus, Republicans and Democrats varied wildly in pinpointing the source of the increase in antisemitic incidents," IHE reported. "While Republicans cited foreign powers, Democrats blamed antisemitic language used by former president Donald Trump and his allies."
MORE: Cornell student charged with threatening to slaughter Jewish students
IMAGE: YouTube screenshot
Like The College Fix on Facebook / Follow us on Twitter