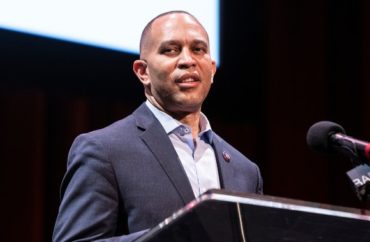 Jeffries also defended his uncle Leonard Jeffries, who was fired for antisemitic remarks
House Minority Leader Hakeem Jeffries compared black conservatives to "house negroes" in a 1992 column for his college newspaper.
Jeffries, who was also an executive board member of the Black Student Union at Binghamton University in New York, wrote in the 1992 column that black conservatives seek to emulate white conservatives, The Daily Wire reported Wednesday.
"The House Negro of the slavery era and the Black conservative of today are both opportunists interested in securing some measure of happiness for themselves within the existing social order," Jeffries wrote at the time. "In both cases, the social order has Blacks occupying the lowest societal echelon."
"Most importantly, the House Negro sought to emulate the white master. This emulation was not designed with the interests of the masses at heart. Rather, the motivating force was personal gain," Jeffries continued.
Jeffries completed his bachelor's degree in political science from the State University of New York at Binghamton, according to his government bio.
In the same column, Jeffries defended his uncle Leonard Jeffries, a black studies professor dismissed for antisemitic remarks, and Louis Farrakhan, who once compared Jewish people to termites, according to The Daily Wire.
"Dr. Leonard Jeffries and Minister Louis Farrakhan have come under intense fire," Jeffries wrote in his 1992 piece. "Where do you think their interests lie? Dr. Jeffries has challenged the existing white supremacist educational system and long standing distortion of history. His reward has been a media lynching complete with character assassinations and inflammatory erroneous accusations."
Leonard Jeffries faced widespread backlash in the early 1990s after comments he made about the involvement of "rich Jews" in the African slave trade and "a conspiracy, planned and plotted and programmed out of Hollywood" of Jewish executives who he said were responsible for denigrating Black Americans in films, CNN reported Wednesday.
However, Jeffries' office stressed his record in public service and disavowed "the controversial views espoused by his uncle over thirty years ago," his office spokesperson Christiana Stephenson told CNN in a statement on Wednesday.
MORE: New College employee quits, rants about Hillsdale and says DeSantis is like Hitler
IMAGE: Lev Radin/Shutterstock
Like The College Fix on Facebook / Follow us on Twitter