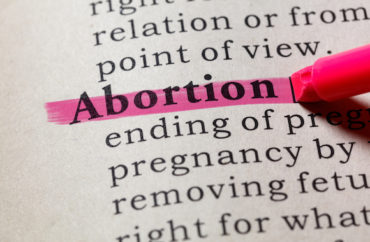 Abortionist admits: Abortion kills human beings
Pro-abortion politics thrive largely on euphemisms: Abortion is referred to as "terminating a pregnancy," unborn humans are referred to as "products of conception" and "potential life," the legal privilege of abortion itself is called the "right to choose." Amidst all this, pro-choicers have constructed a fictive yet still effective biological classification system, insisting that, whatever unborn human beings are, they are not actually human beings.
At the University of North Carolina Wilmington recently, one professor quietly blew the lid off this fallacy. Mike Adams, a sociology professor at that school, managed to get Dr. Willie Parker, an abortionist, to admit that abortion kills human beings. Parker himself is something of a celebrity on the pro-abortion left; he is a self-professed Christian who works his deadly trade, he says, in part because he believes Christianity demands it of him. ("I believe I'm doing God's work," Parker has said of abortion.)
During a debate at UNC last week, Parker flatly admitted that "abortion kills a human being," though he stopped short at admitting how many human beings he himself has personally killed ("What's the difference?" he asked, which is, in a particularly horrifying way, a fair point). This is no small admission: Parker is a very prominent and celebrated abortionist, a hero to many on the pro-abortion left, as famous an individual as you're apt to find among abortion doctors. It is something of a bombshell that one of the standard-bearers of the abortion movement is willing to admit that, yes, the procedure kills human beings. Will any abortion provider disagree with him? On what grounds?
In any case, Mike Adams has shown how to effectively and cleanly expose the pro-abortion movement for what it is. All you have to do is be patient, persistent and determined; eventually you can get pro-choicers to admit just what abortion does. And being honest about abortion, of course, is the first step toward ultimately rejecting it.
MORE: Pro-abortion professor won't say if unborn humans are human
IMAGE: Feng Yu / Shutterstock.com
Like The College Fix on Facebook / Follow us on Twitter