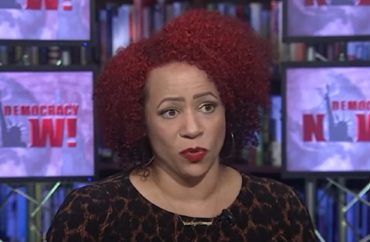 The event is the first in a series of readings that university will host
Howard University's law school hosted a "1619 Project Read-Along" on Sunday with Nikole Hannah-Jones, a professor and major contributor to the New York Times' project.
"This event will focus on 'Democracy,' chapter 1 of 'The 1619 Project: A New Origin Story,' as the first of six culminating events of 'The 1619 Project Read Along: A Classroom Without Walls,' launched in October 2022," a news release from Howard, where Hannah-Jones teaches, stated.
The initiative makes the claim that America began when slaves arrived in Virginia in 1619 and that the Revolutionary War was fought to preserve slavery, a claim questioned by scholars such as Mary Grabar.
The event also featured  Lisa Crooms-Robinson, a Howard University constitutional law professor, for a conversation moderated by a Howard student.
Howard University Cathy Hughes School of Communications, the Pulitzer Center, and Penguin Random House co-hosted the event.
"The '1619 Project' is The New York Times Magazine's award-winning reframing of American history that placed slavery and its continuing legacy at the center of our national narrative," according to its website.
The '1619 Project' issue of New York magazine was adapted into a book published by One World Press in 2021, according to the New York Times.
Historians, other scholars have criticized the project on factual grounds
The "1619 Project" has drawn criticism from its beginning for its claims. The NY Times itself even quietly edited some of the more contended claims, such as that the year slaves first arrived in America was the real founding of the United States.
Twelve Civil War historians and political scientists who research the civil war wrote a letter to The New York Times magazine in December 2019 criticizing the project.
"The 1619 Project offers a historically-limited view of slavery, especially since slavery was not just (or even exclusively) an American malady, and grew up in a larger context of forced labor and race," the scholars wrote. "Moreover, the breadth of 400 years and 300 million people cannot be compressed into single-size interpretations; yet, The 1619 Project asserts that every aspect of American life has only one lens for viewing, that of slavery and its fall-out."
"We are also dismayed by the problematic treatment of major issues and personalities of the Founding and Civil War eras," the authors continued.
The letter is available on History News Network, which is affiliated with George Washington University, according to its website.
Even more, five other historians wrote another letter to the editor of The New York Times in December 2021 expressing "strong reservations" about the project and asking the paper to "issue prominent corrections of all the errors and distortions presented in The 1619 Project."
"These errors, which concern major events, cannot be described as interpretation or "framing,'" the authors wrote. "They are matters of verifiable fact, which are the foundation of both honest scholarship and honest journalism. They suggest a displacement of historical understanding by ideology."
MORE: History professor under attack for taking stance against '1619 Project'
IMAGE: Democracy Now/YouTube
Like The College Fix on Facebook / Follow us on Twitter