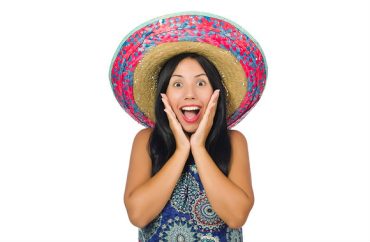 A group of high school foreign language teachers dressed up as "Mexicans" — donned in sombreros and fake mustaches — for the school yearbook, and this greatly offended a parent … who then alerted a local sociology professor.
The prof promptly took to social media to express her dismay, of course.
The teachers from San Pasqual High School in Escondido, California are accused of "racist mimicry" by California State University at San Marcos professor Marisol Clark-Ibáñez. According to The Washington Post, Clark-Ibañez also shared the photos with local television station KFMB.
The Escondido Union High School District agreed that the pics were "culturally insensitive and in poor judgment," and said the situation was "being addressed." There was no further elaboration due to it being a "personnel matter."
Here's how some foreign language teachers at a high school in Escondido posed for their yearbook photo. The district calls it "culturally insensitive and in poor judgement." Details on @CBS8 at 6:30. pic.twitter.com/ZlaKcygAhK

— Steve Price (@SteveNews8) May 22, 2019
San Pasqual principal Martin Casas, who's Mexican, said he doesn't believe the teachers had any "ill will," but added "cultural appropriation is offensive, whether it was intentional or not."
"We owe an apology to our Latinx and Chicano community," he said.
Casas directed teachers to discuss the episode with students and to ask them how the photos made them feel. Students were also asked what school leaders could do to repair the damage done by the photos.

"This is part of a long journey to continue our work to becoming a culturally proficient organization," Casas said. "This will require us to have courageous conversations and to reflect on our biases." …

Clark-Ibáñez said she was stunned by the photos. San Pasqual High is about a 40-minute drive from the border, and its student body is more than 60 percent Latino.

"I was really taken aback, of course, because I've seen these issues in the news. It's usually around Halloween," Clark-Ibáñez said. She also was stunned that such a controversy would erupt in Escondido.

She said she understands that many people think the costumes are funny. But to her, they evoke a caricature of a Mexican who is drunk, shiftless, lazy and sleepy — an image that has pervaded representations of Latinos in popular media for years.
According to her faculty webpage, Clark-Ibáñez "oversees culturally validating programs related to [email protected] in teaching, student mentoring, and faculty development" and is "committed to issues of diversity, equity, and social justice."
MORE: Prof says 'cultural appropriation' is like theft of intellectual property
MORE: UMich to pay $50K for official to combat 'cultural appropriation'
IMAGE: Elnur / Shutterstock.com
Like The College Fix on Facebook / Follow us on Twitter