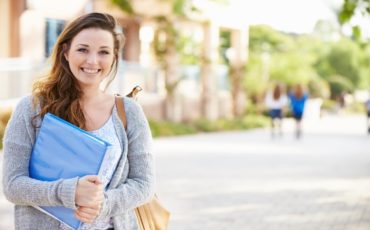 OPINION: My pathway is one I recommend as a viable and cost-effective option
I recently earned a two-year associate degree and am preparing to transfer from a community college to a four-year university to finish up my bachelor's degree.
If my experience has taught me anything, it's this: starting higher education at a two-year college is a great experience, it will save you tens of thousands of dollars, if not more, and there are plenty of resources to explore all of your passions before deciding on a career.
What's more, by living at home and working part-time while taking classes, I've even saved up some money on my road to financial independence.
Here's my story: I was all set to attend Northern Arizona University as a freshman in 2018 when I got my incoming bill my jaw dropped to the floor.
They wanted $28,722 for each year; that included tuition, room and board, a meal plan and other fees. It was too expensive to fathom. My mind tried to grasp the idea of being $100,000 in debt in four years. I just couldn't do that to myself at such a young age.
Instead, I enrolled at Mira Costa College, which costs me about $800 dollars a semester.
Two years later I have no college debt and because of a California policy that prioritizes students from the state's two-year institutions access to its four-year ones, I'm all set to finish up my degree at Mira Costa come fall and have many options for a transfer school. Many states have similar programs.
My pathway is one I recommend as a viable and cost-effective option for any 18-year-old fresh out of high school.
For one, many of my professors actually taught at nearby four-year universities as well. They used the same curriculum, same textbooks, and the same class materials. Several of them often admitted they prefer teaching at community colleges more than four-year universities.
I was also able to have time to try things out, find out what subjects I liked, and what I didn't.
I thought I would major in nursing after high school, and actually changed my major four times after taking several electives. I am now a sociology major. I loved how I did not feel pressured to settle on a major right away without knowing if it was a perfect fit for me.
I can't imagine the cost of changing majors four times at a pricey campus.
Surveys show that 20 to 50 percent of students enter college undecided on a major, and about 75 percent change their major at least once before graduating with a degree. Why does society encourage young people to go into major financial debt right out of high school, when they don't have a clue what they're spending their money on yet?
Plus, with so many colleges staying virtual this fall due to COVID-19, or offering some sort of hybrid model, is it worth all of that money to learn from home with Zoom University?
I'm also a big proponent of vocational schools, learning a trade through work, or obtaining certifications in different blue-collar and tech fields. In my experience, every person learns differently, and college isn't always the best option for everyone.
Looking back at my high school experience, I was often told the only pathway to success is to head straight into a four-year college. That did a disservice to me and my peers, it always made me feel as if there was something wrong with me for taking a different path.
If more young people began at a community college or tried different vocations, we would see fewer college students strapped with $100,000-plus in debt and a degree that can't guarantee them a good-paying job after they graduate.
The bottom line is students need more options, and they need to be educated on those options.
MORE: Cal State: 'no plans to reduce' fall tuition despite keeping classes online
IMAGES:  Shutterstock
Like The College Fix on Facebook / Follow us on Twitter