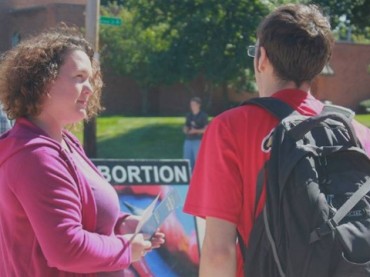 On Planned Parenthood, infanticide, and relativism
Tell me, honestly – were you really shocked when you heard the news that Planned Parenthood sells aborted baby parts?
I was not, not entirely.
Abortionists do not value human life – so why wouldn't they make extra money on the side? It's a business. It's an industry. This we're-champions-of-women mantra is smoke and mirrors.
Nevertheless, one of the most shocking revelations about Planned Parenthood's methods to me (so far) came out Thursday, when it was revealed that the group engages in infanticide. There is something truly and utterly horrific and evil about killing a baby who lived through an attempted abortion and who could survive outside the womb. The word execution comes to mind.
Today's news reminded me of one of The College Fix's most widely read stories last year: "TRENDING: More college students support post-birth abortion."
In case you missed it, it chronicled a trend seen by prolife activists that frequently engage college students on campuses nationwide – the growing acceptance of post-birth abortion, or killing the infant after he or she is born:
Anecdotal evidence by leaders of prolife groups such as Created Equal and Survivors of the Abortion Holocaust said in interviews that not only do they see more college students willing to say they support post-birth abortion, but some students even suggest children up to 4 or 5-years-old can also be killed, because they are not yet "self aware."

"We encounter people who think it is morally acceptable to kill babies after birth on a regular basis at almost every campus we visit," said Mark Harrington, director of Created Equal. "While this viewpoint is still seen as shocking by most people, it is becoming increasingly popular." …

"This is the whole problem with devaluing human life at any stage—it will naturally grow to include other groups of humans; in this case, born humans as well as preborn humans," Harrington said. "[I] talked with one young man at the University of Minnesota who thought it was alright to kill children if they were under the age of 5 years old, as he did not consider them persons until that age."

Kristina Garza, spokeswoman for Survivors of the Abortion Holocaust, a prolife organization that often sets up anti-abortion displays on campuses along the West Coast, said her group also frequently encounters college students who accept infanticide.

"For those who are firmly for abortion, because they understand it kills a human being, it's very easy for them to accept killing a human being after birth," Garza said. "There is this notion that is common on campus, that it's OK to kill babies because somehow we don't become human until we are self aware."

"A common number that is going around is 4 years old," she adds.
The article went viral and sparked a national dialogue – Snopes.com attempted to debunk the claim by complaining the piece spun anecdotal evidence into a "study." Students for Life also published a piece saying they did not think the trend was real.
So The College Fix went back to pro-life campus activists and dug up more evidence:
Partial transcripts from conversations between Survivors of the Abortion Holocaust team members and college students in recent months reveal the mindset can be found in young people.

On Dec. 3, 2014, at Cal Poly San Luis Obispo, Survivor team member Sam Riley talked with a student who said he supported the "choice of the intellectual human."

He said that "an intellectual human is a 5-, 6- or 7-year-old. They don't know anything until 5, 6 or 7 years old." When asked whether it was permissible to kill 2, 3, and 4-year-olds, he said: "Yes, under that criteria, I guess it would be ok."

On Oct. 15, 2014, at Golden West College in Huntington Beach, Calif., a student admitted to Survivor team member Josh Cummings that a fetus is a human fetus. When asked when it was okay to kill a defenseless human life, the student said, "many times." Cummings then asked the student whether a mother could drown her 2-year-old in the bathtub if she couldn't afford to take care of it. "Yes, absolutely," the student responded.

On Dec. 10, 2014, at Pomona College in Claremont, Calif., Survivor team member Lizzy Riley talked to a student who called himself a "utilitarian." He said that if abortion were legal in India then people would not be forced to kill or abandon their baby girls. The situation now, he said, makes it necessary to kill these girls.

On Oct. 13 and 14, 2014, at UC San Diego, Lizzy Riley talked to three or four people who exhibited this utilitarian mindset, saying they had no problem with killing a 1- or 2-month-old. They admitted this after being shown there is no substantial biological difference between a 7-month fetus and a 2-month-old.

"Students wouldn't be able to articulate where they learned it, but the ideology is so ingrained in them that they don't even question it," Lizzy Riley told The College Fix. "Look at where the slippery slope leads. If you're casually pro-choice, at some point, you're going to have to defend killing children after birth."

After The College Fix published its original article, titled "Trending: More college students support post-birth abortion," InfoWars reporter Joe Biggs got a number of students at the University of Texas in Austin to sign a petition for "post-birth abortion" that would allow killing children up to five years old. His efforts were captured on video.

But long before Biggs posted his man-on-the-street campus poll, Created Equal posted a video showing in a shocking manner the mentality of some modern college students.

"If you kill a baby fetus, it's the same thing as killing any old inanimate object," one college student told Created Equal in a 2011 conversation captured on video. "Like a rock, a tree – whatever. It's not self aware. So what's the point of holding on to its life?"

When a Created Equal member asked this college student when a young person becomes self aware, he replied: "Um, I am not a scientist, I am not a doctor, but if I recall from taking classes and stuff like that, like after a certain amount of months and years like, after a child is growing, like they begin to understand. I think it's somewhere around the time of like, speech."
The bottom line is there has been a cultural shift in America. The right to define one's own truth has created a world in which men can be women, marriage can be between two men, and late-term babies can be murdered.
Relativism has infiltrated our country's college campuses, it's heralded by the mainstream media, it's embedded into impressionable minds through pop culture, movies and video games.
In a world in which there is no God, and truth is what someone decides it is, unborn babies are justifiably ripped apart and their organs sold to the highest bidder.
RELATED — TRENDING: More college students support post-birth abortion
RELATED — UPDATE: More proof that more college students support post-birth abortion
Like The College Fix on Facebook / Follow us on Twitter