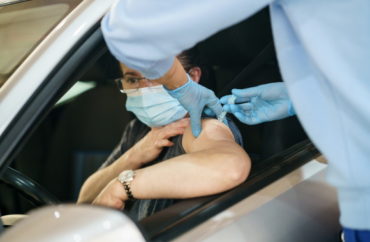 Life-saving special on aisle five
On Wednesday, I drove to a RiteAid pharmacy, less than two miles from our house, and got stuck with a COVID vaccine. It was the first of two shots that will grant me functional immunity from a pandemic that has shut much of our world down for the past year and change.
People's bodies can react to these things in unexpected ways. Many experts caution us to wait around for 20 minutes after getting stuck to make sure everything is copacetic.
So I stayed for a while and shopped for the sorts of things you can get at a RiteAid: a thermometer for the infant son, chocolate for the wife, some DVDs for the daughter.
While I was waiting in the checkout line, the pharmacy announced over the store's PA words to the effect of, "Hey, we've got this extra Moderna vaccine from a no-show. Anybody want one?"
That announcement amused me greatly. But it's also exactly the right way to go about getting us out of the crippling paralysis that has cost hundreds of thousands of lives in this country, millions of jobs, and trillions of dollars. The right approach: offer, prod, persuade.
Unfortunately, the approach of many in power has been the exact opposite in our drive to herd immunity: order, mandate, shame.
Hillary Clinton took a similar tack in her campaign for the presidency. People who opposed her candidacy constituted a "basket of deplorables," she warned. How did that work out for her?
An increasing number of schools and colleges are trying to require that students must be vaccinated, which will lead to much litigation. Some people will even hold out against vaccination because they simply don't like being ordered around.
Now granted, K-12 public schools often insist on vaccinations before children can enroll. Yet that happens with vaccines that are out of the "emergency" phase and already very well established. None of these COVID vaccines have even been approved for use in any body below 16 years of age.
Instead of messing around with mandates, colleges would be much better off to attack COVID with an approach that we might call educate and facilitate.
"Facilitate" is exactly what it sounds like. Let students know that if they have questions, they can get answers. Promise them they won't even have to leave campus to get stuck. Make good on that promise by partnering with medical or pharmaceutical institutions that have a right to distribute the vaccine.
As for the "educate" part, colleges ought to leverage hard earned academic expertise to show people the need for these vaccines.
The game plan would be to remind people of the historical devastation caused by past pandemics. Show the public the absolute medical miracle vaccines have conferred on our planet. We largely no longer fear the physical ravages of polio or the deadly, super spreading efficacy of the measles, for instance. Also, use mathematic and scientific expertise to help folks navigate confusing and often false claims by COVID vaccine opponents.
This reasoned response would be much better because humans are not sheep. Aristotle thought we are rational animals, and, sure, that's a good working model.
That means we cannot be easily be herded to herd immunity. We must be persuaded to vaccinate instead.
MORE: Bishop rebukes Notre Dame president for COVID vaccine mandate
IMAGE: Shutterstock
Like The College Fix on Facebook / Follow us on Twitter