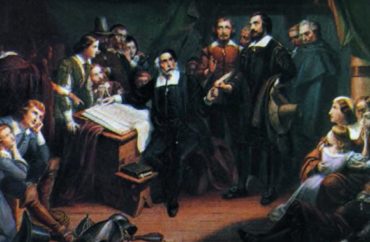 The early voyagers had courage
Once again I will proudly celebrate Thanksgiving this year, a day when we give thanks to God for delivering voyagers hundreds of years ago to America.
The early Pilgrims were led by my ancestor, Governor William Bradford.
They made mistakes early on, relying on proto-socialism before switching to private property rights, for example.
Those who survived the voyage signed onto a document that would later be called the Mayflower Compact:
Having undertaken, for the Glory of God, and advancements of the Christian faith, and the honor of our King and Country, a voyage to plant the first colony in the Northern parts of Virginia; do by these presents, solemnly and mutually, in the presence of God, and one another; covenant and combine ourselves together into a civil body politic; for our better ordering, and preservation and furtherance of the ends aforesaid; and by virtue hereof to enact, constitute, and frame, such just and equal laws, ordinances, acts, constitutions, and offices, from time to time, as shall be thought most meet and convenient for the general good of the colony; unto which we promise all due submission and obedience.
This document can be seen as a forefather of our future constitutional documents
As Peter Wood explains in the New York Post, in comparing the compact to the Declaration of Independence and Gettysburg Address:
The Mayflower Compact is a much humbler document than those two, but it has the advantage of being the first: the first time a mutually suspicious collection of settlers decided, without compulsion, to respect one another's rights. Plymouth enacted its own laws, elected its own leaders, and after a winter of severe hardship, thrived as a peaceful self-governing community.
As a Catholic, I also draw a religious lineage back to even earlier voyagers – the Spanish troops who landed in St. Augustine, Florida in 1565. Some consider this the first Thanksgiving.
Those troops thanked God as well with a Mass. And likewise, we should thank God for his many blessings on us and on our country this Thanksgiving.
MORE: Here's how colleges should teach and celebrate Thanksgiving
IMAGE: The Story of Liberty/YouTube
Like The College Fix on Facebook / Follow us on Twitter