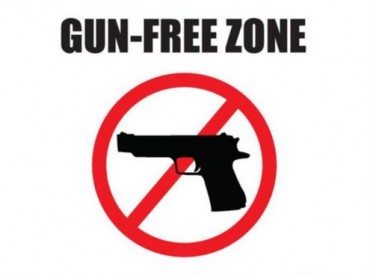 OPINION: Thanks, but no thanks
Nine minutes. That's how long it took for Seung-Hui Cho to murder 30 people at Virginia Tech as police tried to enter the building and stop him. It took Steven Kazmierczak roughly five minutes to murder five students, wound 17 others, and shoot himself in Northern Illinois University. The entire tragedy was over before a single police officer stepped inside the lecture hall to stop him.
The timetables on these tragic campus mass-shootings may seem arbitrary to some, but they are ultimately at the heart of the campus carry debate.
Two years ago I sat inside the office of a University of Wisconsin administrator discussing several topics, one of which was guns on campus. He assured me that in the event of a school shooting the campus police could deal with it before it "got too bad," and that the best thing I could do is "hide under a desk."
Desks did not stop the bullets and carnage at Virginia Tech or Northern Illinois University, but more importantly neither did the police who were entrusted with the protection and safety of the students.
Let me be clear, I'm not criticizing the response time of the police officers in these tragedies. School shootings are pure chaos, and response times cannot be immediate. The honest truth is that the police are not capable of saving everybody unless we place an officer inside every classroom at all times, which is not a realistic option.
Campus carry is a viable option that could save lives.
An example of armed students saving lives is when two law students, who were also police officers, used their personal weapons to stop a shooting at Appalachian State long before uniformed officers arrived on the scene.
Those who oppose campus carry will argue that allowing students to carry guns will lead to more violence, but this argument is nothing more than a red herring with absolutely no facts to support it. Utah, Colorado and Idaho currently allow concealed carry on campus and there is not one documented case of a student with a concealed carry permit shooting another student on campus.
Concealed campus carry opponents also argue that students do not have the proper training to carry guns. Also not true. For example, I have a concealed weapons permit in my home state of Wisconsin that allows me to carry any of my handguns just about anywhere I want, except inside some government buildings and schools that ban it in their classrooms. The University of Wisconsin chose to ban guns inside their classrooms in the name of "safety."
For me to qualify for my concealed weapons permit I had to present evidence of sufficient weapons training. The idea that I am responsible enough to carry a deadly weapon anywhere in the state except a University of Wisconsin classroom is ridiculous. Walking into a classroom does not make a person irresponsible. If a person is permitted to carry a weapon while walking to class then they most certainly have displayed sufficient training to carry it into class.
My personal safety is also my responsibility. I should not be forced to rely on a police officer, who at best is minutes away, to defend my life.
Economist John Lott has also pointed out that since 1950 all mass shootings have taken place in gun-free zones, with the exception of one. It's clear that gun free zones do not save lives, but instead create a zone of easy targets for a mass murderers to slaughter.
Aurora, Colo., movie theater shooter James Holmes admitted that he wanted to attack an airport, but decided against it because security there is too much of a deterrent. This is a perfect example of a crazed gunman choosing a gun-free zone instead of going where people might shoot back. It's also important to recognize the fact that James Holmes didn't choose the nearest theater, but instead chose the movie theater in the area that banned guns.
Campus carry might not stop every tragedy, but if allowing students with concealed carry permits to carry their weapons in class saves even one life, then it is worth doing.
As I once told a UW-Madison administrator, I feel much safer with a gun in my hand than I do hiding behind a desk.
College Fix reporter David Hookstead is a student at the University of Wisconsin Madison.
Like The College Fix on Facebook / Follow us on Twitter
IMAGE: David Hookstead