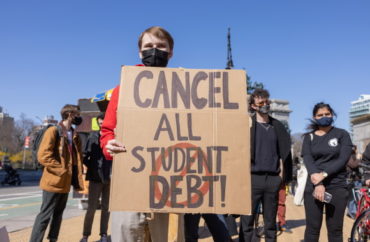 'Do you think Congress shouldn't be surprised when half a trillion dollars gets wiped off the books?'
Demonstrators descended on the Supreme Court on Tuesday as it heard oral arguments for and against President Joe Biden's $400 billion student loan forgiveness plan.
"As the arguments begin, organizers expect a crowd of 3,000 at a rally that will include members of Congress, borrowers and activists," The Hill reported. "…Decisions in the case are likely still a few months away, but the demonstrations come as borrowers are already bracing to hear the fate of Biden's plan."
During questioning, some justices sounded skeptical of Biden's plan, CNBC reported:
Early in the hearing, Chief Justice John Roberts questioned Solicitor General Elizabeth Prelogar, who is defending the program, about the argument by the plaintiffs that Congress needed to approve the debt relief first before it was set in motion. That did not happen in this case.

"Do you think Congress shouldn't be surprised when half a trillion dollars gets wiped off the books?" asked Roberts, who is part of the court's conservative supermajority.

"I think most casual observers would say if you're going to give up that amount of money … then Congress should" have to approve that, Roberts later said.

A liberal justice, Sonia Sotomayor, echoed that, asking Prelogar how she would deal with "the amount at issue," which plaintiffs argue triggers the so-called major questions doctrine. Under that doctrine, the Supreme Court has said previously said that Congress must approve a federal agency's action on an issue of major national significance.
The U.S. Department of Education claims power to forgive student loans under the 2003 Higher Education Relief Opportunities for Students, or HEROES, act. It states the Secretary of Education "may waive or modify any statutory or regulatory provision applicable to the student financial assistance programs… as the Secretary deems necessary in connection with a war or other military operation or national emergency."
Six Republican-led states have sued to stop the bailout: Nebraska, Missouri, Arkansas, Iowa, Kansas and South Carolina.
"We take very seriously the idea of separation of powers and that power should be divided to prevent its abuse," Chief Justice Roberts reportedly said. "This is a case that presents extraordinarily serious, important issues about the role of Congress and about the role that we should exercise in scrutinizing that significance."
CNBC reported that "Nebraska Solicitor General Jim Cambell, who argued on behalf of Republican attorneys general for six states challenging the plan, told the justices that 'never before has the Heroes Act been used to forgive a single loan.'"
"Campbell said that Education Secretary Miguel Cardona's use of the act for the purpose of alleviating student loan debt was 'breathtaking,'" the news outlet added.
"He needs clear congressional authorization for such power, which he doesn't have because the Heroes Act does not authorize this program," Campbell said. "This court should declare this program unlawful."
Justice Brett Kavanaugh asked Campbell to weigh in on the argument that loan forgiveness is in the "wheelhouse" of the Education Department, CNN reported, adding "Campbell said that the loan forgiveness policy was not in the Education Department's wheelhouse because it required the secretary to make a brand new cancellation program."
The Wall Street Journal reported that Justice Neil Gorsuch "asked whether Education Secretary Miguel Cardona was outside his area of expertise when he put forth a regulation with such an extensive economic impact as the debt-forgiveness plan."
"I understand the [Education] Secretary has considerable expertise when it comes to educational affairs, but in terms of macroeconomic policy, do we normally assume that every cabinet secretary–learned as they are–has that kind of knowledge?"
"No we don't," Campbell replied. "Congress has the power and expertise to weigh the balancing and competing fiscal implications …this is something that's outside the secretary's expertise."
The issue of whether the states have standing to sue was also debated Tuesday.
"The states argue, in part, that a state-created entity known as MOHELA that services student loans would lose revenue under the plan. But MOHELA, a quasi-state agency in Missouri, didn't actually bring the lawsuit. Missouri did," USA Today reported. "A key question for the court is whether Missouri can sue on behalf of MOHELA."
"Barrett's comments came after the court's liberal wing also pressed hard on whether the six conservative states that have sued over Biden's student loan forgiveness program have standing to sue. If the court decides the states were not actually harmed by the plan, then Biden could win the case on a procedural point," USA Today reported.
Barrett also expressed concerns over precedent set during President Donald Trump's administration. The Wall Street Journal reported:
Barrett noted that the first use of the Heroes Act during the pandemic with regard to student debt was not the Biden cancellation plan, but rather the Trump administration's student loan repayment pause. She asked whether the Republican-led states believed that the payment pause was allowed under the law.

Nebraska Solicitor General James Campbell responded that he had "no way to assess that" but also argued that when Education Secretary Betsy DeVos extended the payment pause following a congressionally mandated six month freeze, that could be supported under the law.

Justice Barrett suggested that Mr. Campbell had "whiffed" in his effort to answer whether Ms. DeVos had authority to pause loan payments prior to congressional action in March 2020.

At some point, though, the connection to the pandemic emergency becomes "too tenuous," Mr. Campbell said– including when Education Secretary Miguel Cardona, under President Biden, determined that he could use the law's authorities to cancel large amounts of debt.
The Associated Press reported that "Republican-appointed judges on lower courts have blocked the plan. The Biden administration says 26 million people have applied and 16 million have been approved to have up to $20,000 in federal student loans forgiven. The program is estimated to cost $400 billion over 30 years."
MORE: College grad refuses Biden bailout, says Americans have civic duty to pay loans back
IMAGE: Ben Von Klemperer / Shutterstock
Like The College Fix on Facebook / Follow us on Twitter